If you've never heard of the drinking/travel show Three Sheets, well, not to oversell it, but it is very likely the greatest drinking show.  Ever.  Over the course of four seasons (52 episodes), endearingly witty host Zane Lamprey (a.k.a. "The Guinea Pig of Booze") traversed the globe and imbibed in everything from a majestic $10,000 bottle of 50-year-old scotch in Scotland, to snake penis wine in Taiwan.
(By the way, if you missed the original series run, you can find it on YouTube, Hulu, etc.  And if you're thirsty for new episodes, you're in luck because Three Sheets is coming back!)
Of course, being a dedicated drinking diplomat usually comes at a price which is customarily paid in the form of a hangover.  But with almost every new hangover came a hangover cure— some more effective than others.
That said, sometimes the actual effectiveness of the hangover cures presented on the show was a bit vague.  But we did our homework, and it turns out that there's actually a Three Sheets book (4.5/5 stars on Amazon) that offered more clarity.  So in the spirit of thoroughness, we'll take a look at the hangover cures/remedies listed on the show and book.
(If you're curious what caused the hangover in each episode, check out our quasi episode guide called Every Hangover Cure from Three Sheets.)
Analysis of the Hangover Cures from Three Sheets (T.V. Show)
We're going to keep this analysis pretty simple and only look at four things: (1) the hangover cure from a given episode, (2) the country/city with which the cure is associated, (3) the cultural accuracy of the cure, and (4) the cure's effectiveness.  To be fair, in cases where we were unable to confirm the cultural accuracy of a given hangover cure, it doesn't necessarily mean it's not culturally accurate.
Also, it should go without saying that the effectiveness of a given hangover cure is purely based on Zane's personal experience, so your mileage may vary.  In addition, not every episode of Three Sheets contains a hangover cure either because no hangover was reported, as with the Japan and Greece episodes, or simply because none was given, as with the episodes for London, New York, Vince, Barcelona, Saigon, Cognac, Lithuania, and Barbados.
Lastly, we didn't list the hangover cure for the Poland episode (splashing around at an indoor waterpark) mainly because Zane pointed out that getting in water was one of his personal hangover cures and it was therefore not directly linked to that particular country.  (This might also explain why we weren't able to confirm the cultural accuracy of similar hangover cures for Denmark, Croatia and Tahiti.)
Below is a sortable list of the hangover cures from Three Sheets (T.V. Show):
Hangover Cure
(T.V.)
Country/
City
Confirmed as
Culturally Accurate?
Did it work?
Chocolate
Belgium
No
Yes
Tortas ahogadas (meat sandwich w/ hot sauce)
Tequila (Mexico)
Yes
Yes
A cold dip in the Adriatic
Croatia
No
Yes
Fried shrimp, shrimp ceviche, frog legs, and beetle larva
The Philippines
Yes
Yes
A liver-targeted reflexology massage
Taipei (Taiwan)
No
Yes
Açaí (smoothie)
Rio de Janeiro (Brazil)
Yes
Yes
Lamprey eel
Portugal
Yes
Yes
An icy cold dip in the Limfjord sea.
Denmark
No
Yes
Pad kee mao (spicy drunken noodles).
Bangkok (Thailand)
Yes
Yes
A canyon swing over a 360 foot canyon.
New Zealand
No
Yes
Swimming with the dolphins
Tahiti
No
Yes
Poutine and beer
Whistler (Canada)
Yes
Yes
Sancocho soup
Panama
Yes
Yes
Marijuana (tea)
Jamaica
No
Yes
Irish coffee
Ireland
Sort of. Alcohol in general is, not specifically "Irish coffee".
Unknown, but yes per the book.
Champagne and a hamburger
Las Vega (USA)
No
Unknown, but yes per the book.
Scrambled ostrich egg
Cape Town (South Africa)
Yes
Unknown, but yes per the book.
Chicken soup
Tanzania
Yes, "supu" (soup) chicken or otherwise.
Maybe, but yes per the book.
Coffee/coffee+beer/coffee+brandy
Costa Rica
Sort of. Alcohol in general is.
Maybe. (The booze got Zane drunk again.)
Michelada
Belize
Yes
Maybe. (Hangover was postponed.)
White sausage (veal) and a pretzel
Munich (Germany)
Yes
Maybe, but not instantly.
Sopa marina (seafood soup)
Chile
Yes (a.k.a. Caldillo de Congrío)
Maybe
A lomilomi (Hawaiian-style) massage
Hawaii
No
Maybe
Fish stew with hot sauce
Puerto Rico
Sort of. Asopao (chicken & rice soup) is, but fish stew isn't.
Maybe
Herring sandwich
Amsterdam (Netherlands)
Yes
Maybe
Scrambled eggs, biscuits, sausage with a drink of coffee and whisky
Kentucky, USA
No
Not fully
Cockles and laverbread
Wales
Yes
No
Haejang-guk (hangover soup)
South Korea
Yes
Unknown
Champagne
Champagne (Fr.)
No
Unknown
A soak in a beer bath
Czech Republic
No
Unknown
Fire cupping
Hong Kong
Yes
Unknown
Fried eggs, fried toast, beans, pork sausage and Danish bacon
Gibraltar
No
Unknown
A hamburger with a battered and fried patty, battered and fried candy bars, and fried pizza
Scotland
No
Unknown
BBQ and yerba maté
Argentina
No
Unknown
A buttery baked potato
Moscow (Russia)
No
Unknown
Zip-lining
St. Martin
No
Unknown
(1) Riding a quad and (2) downing "Buffalo Milk" (mixed drink)
Namibia
(1) No, and (2) yes
Unknown
Labskaus (corned beef, onions and potatoes)
Hamburg (Germany)
Yes
Unknown
Black pudding, Cumberland sausage, smoked herring, a pork sausage and a double-vodka bloody Mary
Newcastle (England)
Yes (English breakfast & alcohol)
Unknown
Lobster soup and Icelandic vodka
Iceland
No
Unknown
The chart below shows how common a particular hangover cure from Three Sheets was: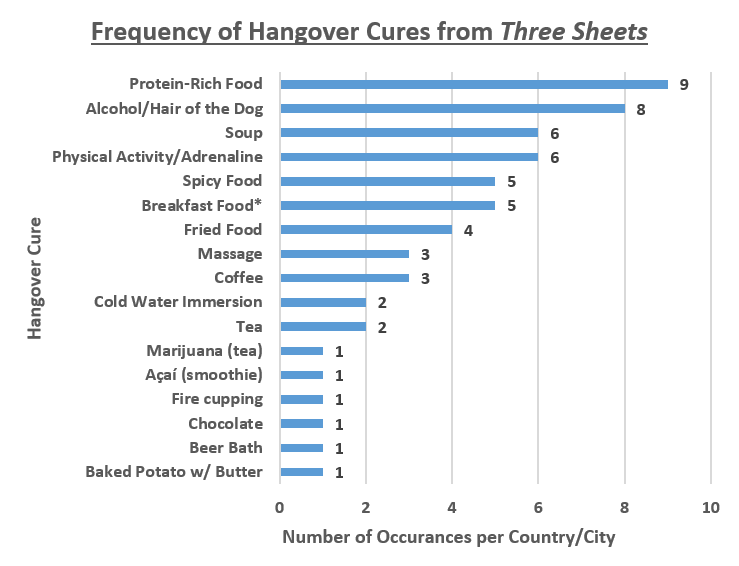 * Because the composition of "breakfast food" can vary from culture to culture, we use the term when a given culture refers to their dish/hangover cure as breakfast food.
Analysis of the Hangover Remedies from Three Sheets (Book)
For this analysis, we keep it really simple and just list three things: (1) the hangover remedy, (2) the country/city with which the hangover remedy is associated, and (3) the remedy's effectiveness.
By the way, the book points out that there is no such thing as a total hangover cure (because that wouldn't stay a secret for long), and therefore uses the term hangover remedy instead of cure.
In addition, the book spells out the effectiveness of all but one hangover remedy by assigning each one a rating of 1 – 3 (or 4) sheets.  To explain, "a hangover remedy that gets a one-sheet rating would do the trick if you only had a few beers the night before.  Two sheets is for the morning after you had more than a few but you still remember how you got home.  A remedy that's three sheets is effective for even the surliest of hangovers— the ones that usually linger until well into the next evening."
And last but not least, despite the fact that the book is clearer than the show when it comes to hangover remedies, only 15 remedies were discussed, some of which were different than what were featured on the show.
Below is a sortable list of the hangover remedies from Three Sheets (Book):
Hangover Remedy (Book)
Country/City
Effectiveness
(1 - 4 Sheets)
Onion soup
Champagne, France
1
Haggis
Scotland
1
Mussels & fries
Belgium
2
Green tea, miso soup and "genki" caffinated drinks
Japan
2
Liver-targeted reflexology massage
Taipei (Taiwan)
2
Maté
Argentina
2
Chicken soup
Tanzania
2
Scrambled ostrich egg
South Africa
2
Pickle soup
Poland
2
Irish coffee
Ireland
3
Tortas ahogadas (meat sandwich w/ hot sauce)
Tequila, Mexico
3
Champagne & a hambuger
Las Vegas, USA
3
Marijuana (tea)
Jamaica
4
Canyon swing (like a bungee jump)
New Zealand
4
Coconut juice w/ a shot of gin
St. Martin
Inconclusive
Last Words
In an interview, Zane candidly summed up his experience with hangover cures:
Q: Have you ever experienced a hangover cure that actually worked?
A: If I had found something that was a hangover cure, I would have much more money than I do now. I definitely have found remedies. A big meal and go back to sleep is the best I can do. I've done cold water a few times.
Q: You're not talking about drinking cold water?
A: No, submerging my entire self into it. Your endorphins and your adrenaline start pumping because your body thinks you're about to die so at that point your hangover becomes tertiary. I think that's the best you can do — put your hangover in third place.
Cheers!
---
Hi, I'm Dan: Beer Editor for BeerSyndicate.com, Beer and Drinking Writer, Award-Winning Brewer, BJCP Beer Judge, Beer Reviewer, American Homebrewers Association Member, Shameless Beer Promoter, and Beer Traveler.