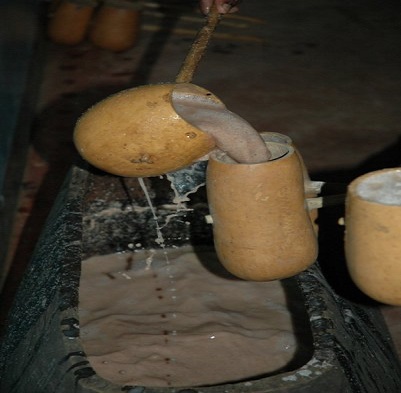 At one point or another, all beer was native.
It was regional. Indigenous. Communal. Domestic.
Nearly all cultures have their own version of beer based on whatever grain was around in the area at the time.  In Asia it was often rice, in Europe barley or wheat, millet in Africa, and in the Americas maize was common.  The only universally consistent components found in beer were grain, water, yeast and/or bacteria.  The widespread use of hops in beer is only a historically recent occurrence beginning in about the 11th century in Europe, which is partly why hops as an ingredient is not typical seen in indigenous beer around the world.
And with the craft beer renaissance in full swing at least in the U.S., don't be surprised if you happen across one of these exotic brews in the near future as modern brewers rediscover native beer.  Dogfish Head already did a take on at least one of the old school brews below, but the truth is that you don't have to wait for Dogfish Head to revive these not so well known brews— some of these traditional beers are so user-friendly, you could make them in our own home today!
First we'll look at an old Slavic beer, then jump over to the New World for a few native treats, and finally swing back around to Africa to check out some tribal beers.
Or you can do a choose-your-own-adventure tour and skip to whatever region interests you most by clicking below.