It was only a matter of time before fake news penetrated the beer world.  And with that, here are previews of three fake brews from the news:
Black Out Brett
Mark your calendars because no matter what, one of the most controversial releases of the decade is set to hit the shelves from the critically-acclaimed Dog & Pony Show Brewing Co. out of Washington, D.C.  Sworn in at a staggering 19.82% ABV, Black Out Brett is an American strong dark ale fermented with 100% brettanomyces yeast, and especially brewed for those people who categorically and unequivocally like beer.  Regardless of your politically leanings, Black Out Brett is guaranteed to be a carefully calculated and orchestrated hit!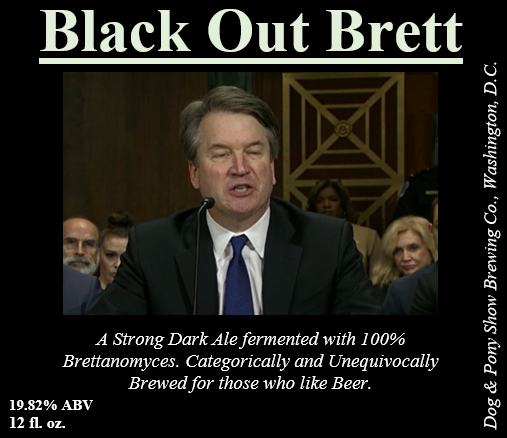 Banksy's Going, going, gone… Gose
The inspiration for this limited-release brew was ripped straight from the headlines after the iconic painting Girl with Red Balloon from famed England-based graffiti artist "Banksy" self-destructed as it was fed through a shredder hidden inside the frame moments after being sold at auction for $1.4 million.  Not long after, the anonymous Banksy posted to Instagram "Going, going, gone…", summing up the moment he literally and figuratively made art history.

Meanwhile, in a case of art imitating art, Banky's Going, going, gone… Gose from the London-based Now You See It, Now You Don't Brewing Co. not only captures that sour moment in a bottle with this acidic ale, but the bottle itself also actually self-destructs upon opening when a widget inside the bottle triggers the bottom of the bottle to open, causing the beer inside to fall out.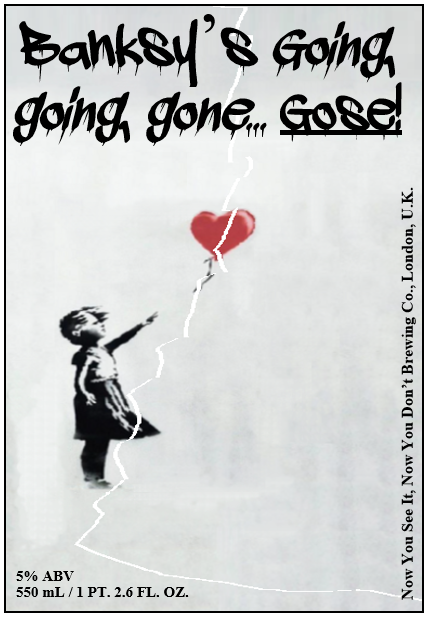 Shock Value IP-Ye!
Never known for resorting to shock value for attention, this brew pays homage to the rapper formerly known as Kanye West for doing the one thing Ye never does: resorting to shock value for attention.  A special one-time release from the Chicago-based brewery Optional Slavery, Shock Value IP-Ye! is ornately packaged in a 24-karat gold bottle, making it not only the world's most expensive beer at $100,000 a pop, but also the world's hoppiest brew weighing in at jaw dropping 1 billion IBUs thanks to a MAGA-dose of ultra-concentrated hop extract.  Shock Value IP-Ye! is so needlessly over the top that it'll make even Tyler Swift scream "Good Yeezus!"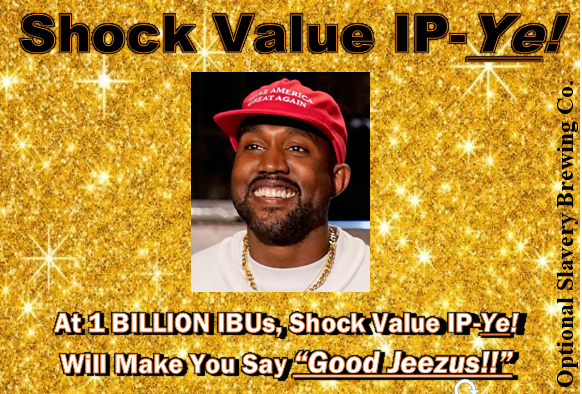 [Proceeds from this beer go to support Mr. West's 2024 U.S. presidential bid featuring running mate Beyoncé.]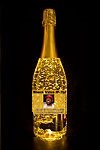 ---
Hi, I'm D.J. Pander.  I like beer.  I also blog. Follow me on Myspace.
[To the best of our knowledge, all of the proceeding beers are fictional parodies based on world events that may or may not have happened.]