With well over 200 microbreweries in the country, craft (or "Artesenal") beer in Mexico is officially a thing.
Of course, when most people think of Mexican beer, they don't exactly think of the bold flavors craft beer is known for.  And there's a reason for that.
According to The Oxford Companion to Beer, historically, the Mexican beer industry has been greatly influenced by German and Austrian immigrates who started breweries in Mexico during the short-lived reign of Austrian-born Mexican Emperor Maximiliano I (1864-1867).1
As a matter of fact, you might have even heard of at least one popular Austrian-style beer produced in Mexico today… That's right, Dos Equis Amber Lager is actually an example of a Vienna Lager.
And while most of the mass-produced commercial Mexican brands of beer reflect the near-flavorless macro beers of their neighbors to the north, a country that was also greatly influenced by Lager-centric German brewers, thankfully Mexican craft breweries have taken a foothold and are beginning to offer the Mexican palate what it demands of its food: flavor.
One such Mexican craft brewery is Agua Mala.  The name "agua mala" is perhaps a bit of a playful pun as it literally translates from Spanish as "bad water" (potentially referring to Mexico's reputation for its less than safe drinking water), but is also slang for "jellyfish".
And it's the jellyfish, along with other marine life, that is the theme of this sea-side brewery in Ensenada, Mexico, the first "legal" brewery in Ensenada as the brewery points out.  (As a bonus for X-Files fans, "Agua Mala" is also the title of episode 13, season 6 of the series which features a jellyfish-like monster that attempts to breed with the residents in a small Florida town.)
What began as a homebrewing adventure for one marine biologist grew into a craft brewery that boasts a variety of different beer styles in its range including an English Bitter, Belgian Wit, American Pale Ale, IPA, Amber, Oatmeal Stout, and even a Christmas beer. (Not to mention a craft cider as well.)
Our pick was the Mako Pale Ale, named after the fastest species of shark in the world.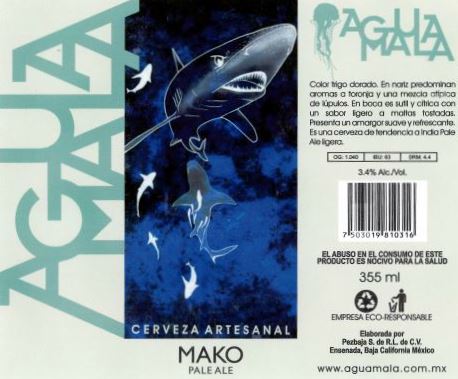 The Gist: A pretty spot-on take on an American Pale ale with excellent clarity and exciting juicy papaya hop components in an impressively clean beer. Craziest of all? The brewer was able to cram so much flavor into such a sessionable 3.4% ABV beer- Odelay México!  Additional props go to this detailed-oriented brewery for adding such label info as the beer's OG (original gravity), IBUs (bitterness) and SRM (color)!  And at least on the bottles we sampled, there were pricing gun labels noting the bottling date and 'Best By' date.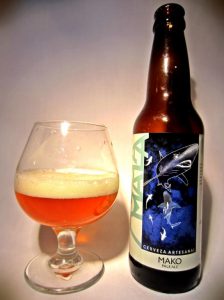 Description: Mako Pale ale pours a ½ inch of slowly fading frothy antique white head over a nearly crystal clear orange-copper body.  The aroma tempts the palate with notes of juicy papaya, light honey graham cracker, agave nectar, hop resin, star fruit, green apple candy ring, and a dash of salt. The flavor tracks the aroma closely leading with juicy papaya and sugared grapefruit which are tempered by a white pepper hop tanginess, and concludes with a mild grapefruit bitterness in this slightly viscous brew.
How to say "cheers" in Spanish: "¡Salud!" (Literally "Health").
[1. Oliver, Garrett. The Oxford Companion to Beer. Oxford: Oxford UP, 2012. 583. Print.]
---
Like this post?  Well, thanks- we appreciate you!  
Want to leave a comment below or Tweet this?  Much obliged!
Want to read more beer inspired thoughts?  Come back any time, friend us on Facebook, or follow us on Twitter:
Or feel free to drop me a line at: dan@beersyndicate.com
Hi, I'm Dan: Co-Founder and Beer Editor for BeerSyndicate.com, Beer and Drinking Writer, BJCP Beer Judge, Gold Medal-Winning Homebrewer, Beer Reviewer, AHA Member, Beer Traveler, and Shameless Beer Promoter.