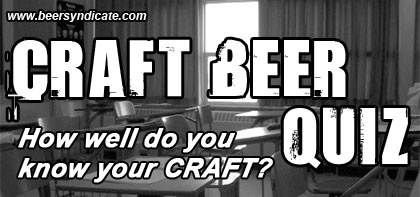 First we tested your Beer IQ with THE BEER QUIZ.
Next we put homebrewers to the test with THE HOMEBREW QUIZ.
And now we come to the end.
A final challenge to craft beer fans everywhere where we pose the question:
How well do you know your craft? 
Find out with THE CRAFT BEER QUIZ.
Just like before, there are three levels to The Craft Beer Quiz: Normal, Challenging, and Hard.
It's recommended that you warm up with the Normal Craft Beer Quiz, and then proceed from there.
Good luck.
THE CRAFT BEER QUIZ (CHALLENGING)
[Special thanks to Daniel J. Leonard for his collaboration and technical assistance on this project.]
---
Like this blog? Well, thanks- you're far too kind.
Tweet-worthy?  That would be very kind of you: Tweet
Want to read more beer inspired thoughts?  Come back any time, friend us on Facebook, or follow us on Twitter:

Hi, I'm D.J. Pander.  I like beer.  I also blog.