2015 Pumpkin Cider Mini-Championship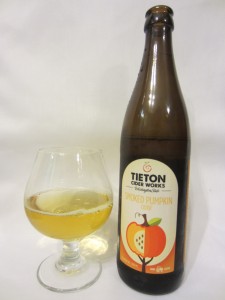 3. Tieton Cider Works Smoked Pumpkin Cider: Tieton Cider Works describes their smoked pumpkin cider as "earthy", and while "earth" is clearly noticeable, we were hoping for something more in the direction of, say, pumpkin— with perhaps just a scoop less earth. The tasting panel unanimously picked up unmistakable aromas of earthiness (potting soil), cottage cheese, and canned peaches, along with apple juice, white wine, mild champagne, apple wood, and horse blanket in this nearly transparent light-gold cider. Earthiness is also apparent in this cider's particularly sweet, medium carbonated flavor profile in addition to elements of white grape juice, apple juice concentrate, 2 X 4 lumber, a touch of smoke, some cabbage, and white wine mid-palate and into the finish.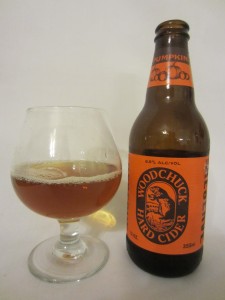 2. Private Reserve Pumpkin – Woodchuck Hard Cider: Woodchuck foregoes the typical pumpkin pie spices in this sweet cider, leaving just the apple and straight pumpkin to duke it out. The cider pours a crystal clear caramel colored body with a quickly dissipating fizzy head which kicks out sweet aromas of barrel-aged cream soda, Caramel Apple Pops suckers, and a hint of banana Runts candy. Elements of cream soda, cooked buttered pumpkin, and Werther's Original caramel candy come through in the taste, leaving behind an aftertaste of tart green apple, crushed Tylenol, and what one taster perceived as a touch of Dayquil.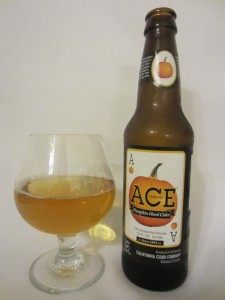 1. Ace Pumpkin Cider: This sugary sweet cider has pumpkin taking a backseat to an overpowering presence of cinnamon and tart apple, but nevertheless turned out to be the better of the three pumpkin ciders reviewed. The cider pours a clear apple juice color, no head or lacing, with aromas of mulling spices, hot cinnamon, tart apple, squash, and water balloon. The flavor is a saccharine combination of sour green apple Jolly Rancher candy and Atomic Fireball cinnamon hard candy, with perhaps a bit of butternut squash and pumpkin candle under all the noise. The aftertaste is sour citric acid, salt, and Chardonnay.
On to the Pumpkin Beers…