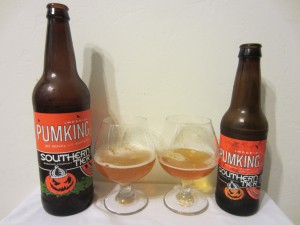 40. Pumking – Southern Tier Brewing Company
:  Reportedly much better in prior years, "Pumking" seems to have lost its crown as of late (and apparently we're not the only ones who think so).  The beer ranked poorly this year for its odd general character of buttery corn and sweet kid's cereal. The medium-full bodied, apple juice colored pumpkin beer discharges aromas of corn meal, buttered acorn squash, Honey Comb cereal, Cap'n Crunch,

 movie butter-soaked 

Corn Pops, caramelized brown sugar, cream corn, faint nutmeg, and dandelion.  The medium-sweet taste closely resembles the aroma emphasizing notes of boiled yellow squash, earthiness, slightly sour canned evaporated milk, stale popcorn, booze, a hint of Chartreuse, pecan pie filling, faint cinnamon, and lickable adhesive (remember when you had to lick stamps?), leaving behind a canned spinach sort of bitterness in the aftertaste.  A side-by-side tasting of 2014 and 2015 bottles revealed, for better or worse, very little difference in character.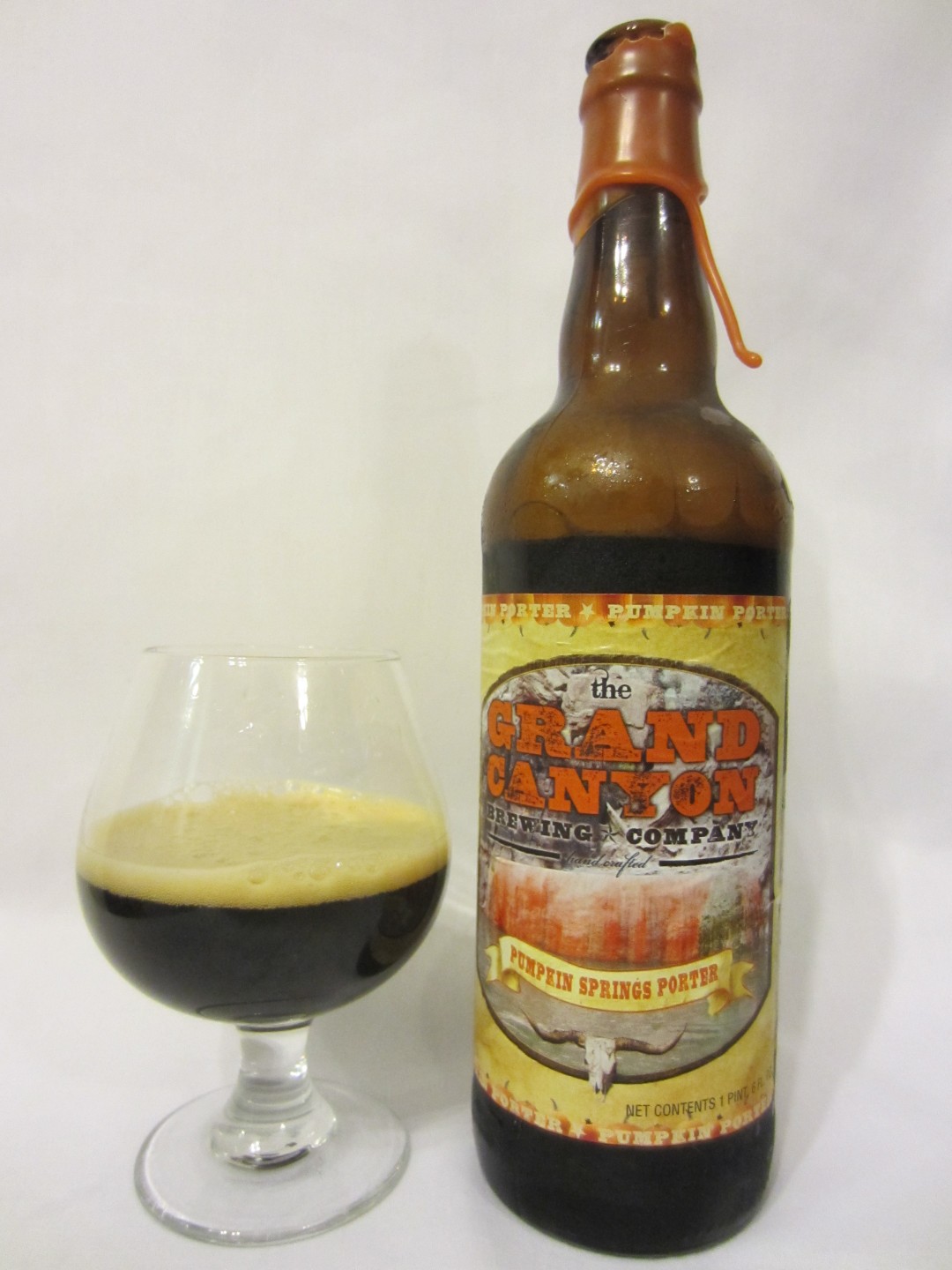 39. Pumpkin Springs Porter – Grand Canyon Brewing Company: A bit watery and soapy for a porter, this pumpkin beer pours a dark coffee colored body with about a pinky of dark tan head, evoking a slightly smoky aroma and hints of coco powder, mesquite bark, roasted marshmallow, brown sugar, green tea, Eucalyptus leaves, black licorice, a hint of alcohol, allspice and cinnamon. Somewhat paradoxically, the brew is generally thin yet possesses a mildly creamy mouthfeel, exhibiting flavors of cinnamon pine cone, Cascade powder dish detergent, a hint of soy sauce, zucchini water, charcoal, nutmeg and ginger with an aftertaste of ash, cacao, volcanic rock and dry autumn leaves.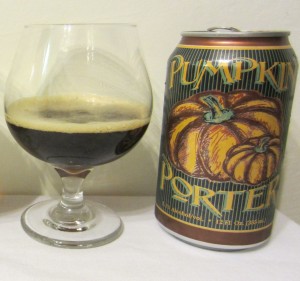 38. Pumpkin Porter – Four Peaks Brewing Company: With no real pumpkin or spice character anywhere, the tasting panel picked out aromas of Swiss Miss cocoa powder, slight sourness, tamarind (including the pod), spam, and homemade play dough, followed by a taste of toasted ash, salt, and sour grain. [This porter is reportedly better on tap.]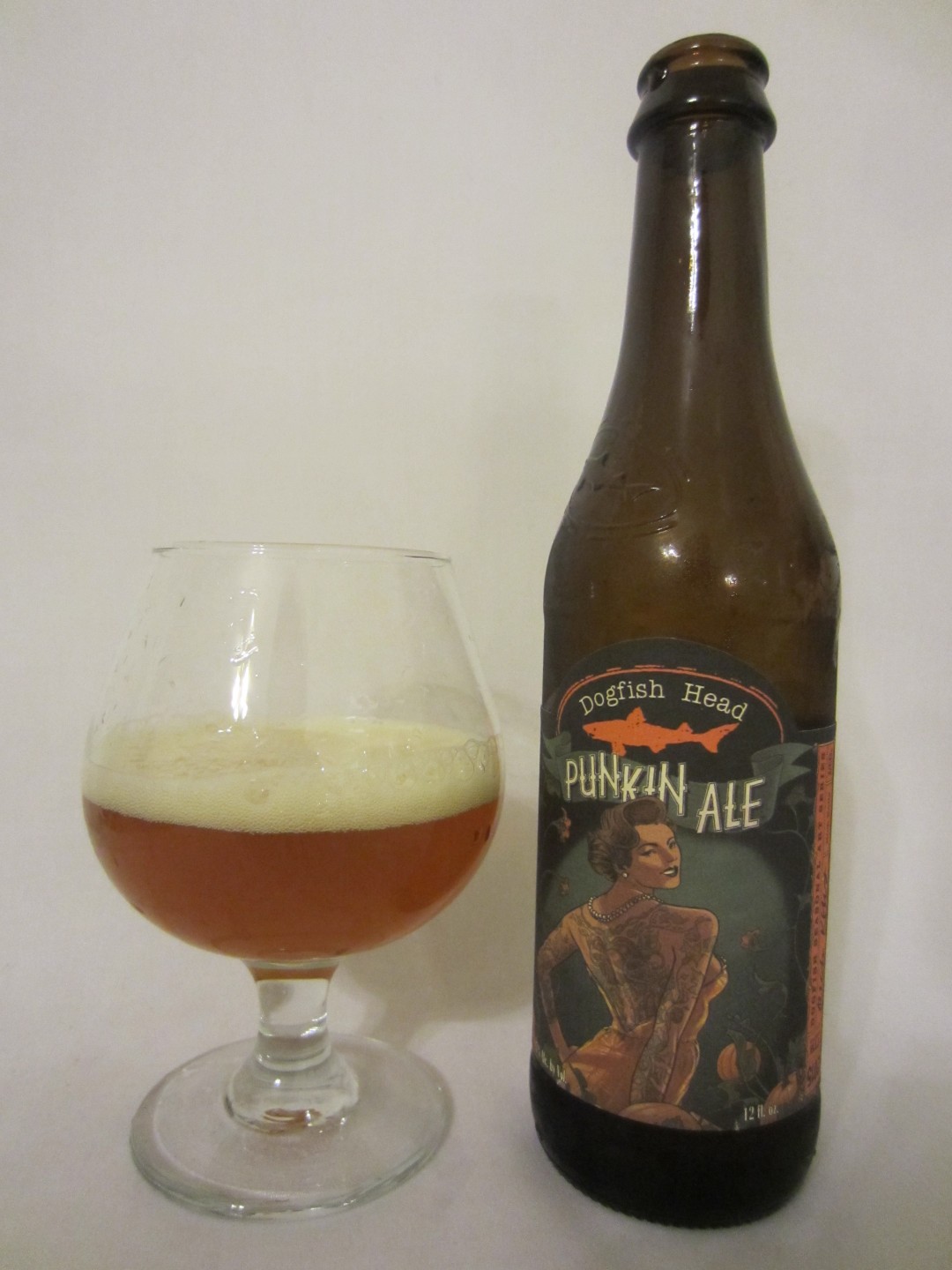 37. Punkin Ale – Dogfish Head Brewery: While the members on our panel are typically big fans of Dogfish Head brews, this medium-full bodied, semi-dry pumpkin beer was very subtle (bordering bland) and didn't really deliver much in the way of either pumpkin or spice this year (except in color). The beer pours a transparent pumpkin colored body with about a finger of light tan head with exceptional retention. Aroma-wise, the panel picked out faint notes of English muffin with a light glaze of apricot jam, paraffin wax, a touch of coffee cake, walnut-infused peach tea, and maybe pumpkin skin.  The flavor offered notes of pecan and walnut shells, black tea, brown sugar, a hint of dried apricot, English Pale Ale, and finishes dry with a touch of alcohol some astringency in the aftertaste.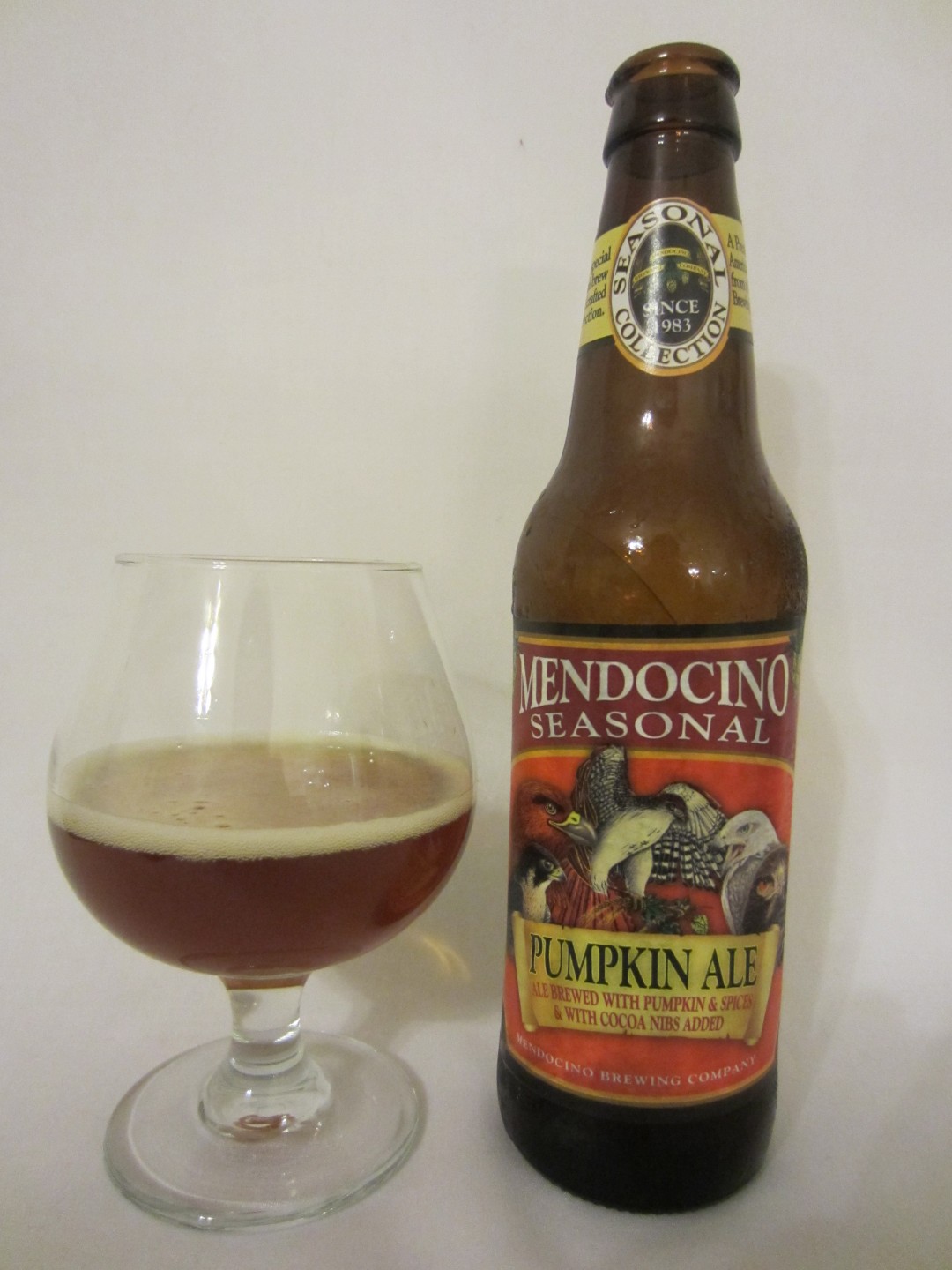 36. Pumpkin Ale – Mendocino Brewing Company: This pumpkin ale presents a mosaic of aromas, but lacks a pleasant harmony in the taste. The aroma is complex, with elements of pumpkin roll with sour cream filling, brown sugar apricot glaze, whole cloves, maple, cinnamon, allspice, guava, loquat, guarana, star fruit, halved pomegranate, the juice of canned blueberries from the blueberry muffin mix, curly potpourri wood shavings, and a hint of cacao as it warms. The taste is dry and thin with notes of pumpkin candle, pumpkin soup, guava, gooseberry, Flintstone vitamins, bitter tea tannins, perfume, and over-cooked spices.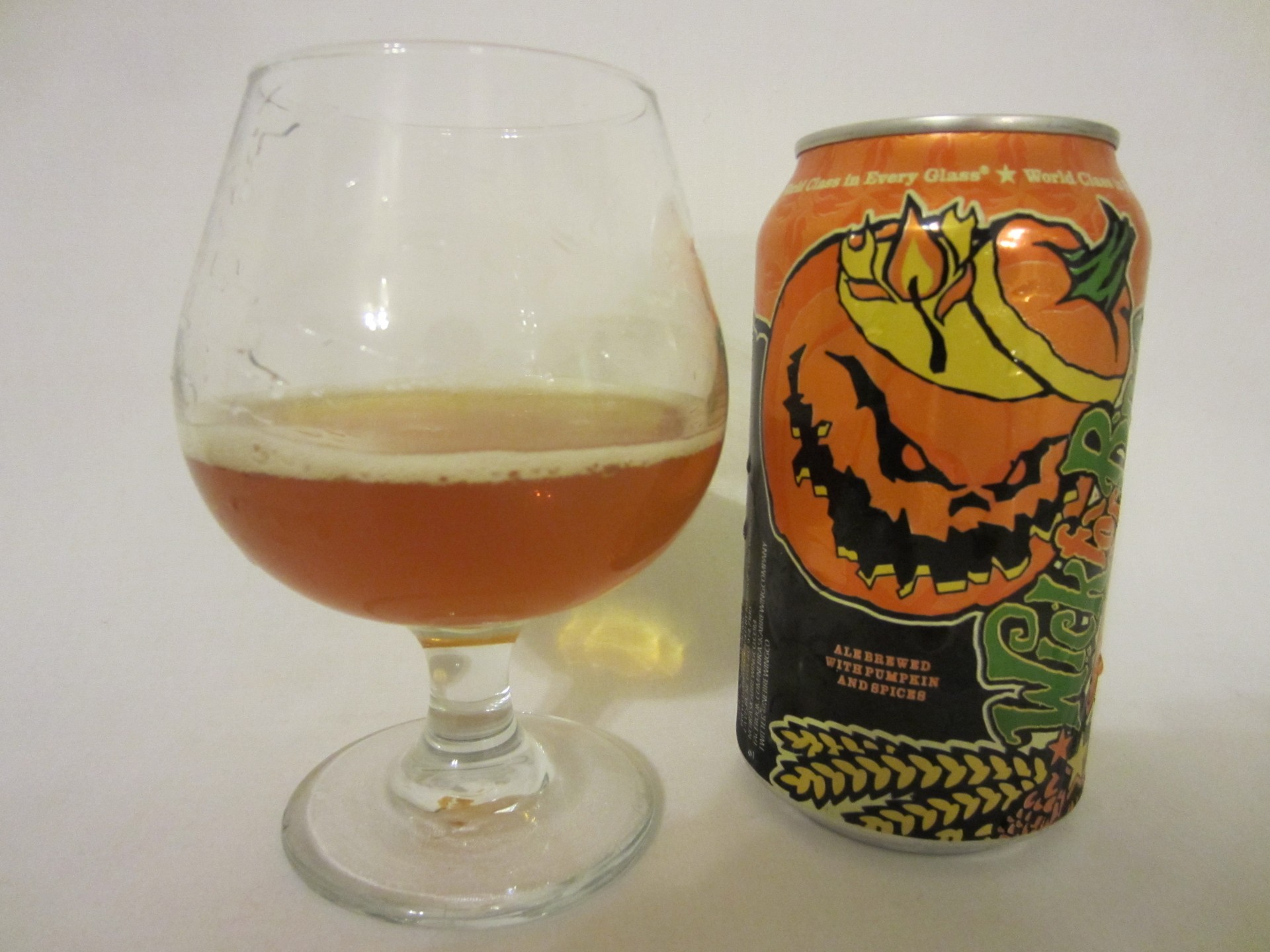 35. Wick For Brains – Nebraska Brewing Company: Wick For Brains pours a transparent pumpkin colored body with only a film of head. The aroma recalls notes of Belgian Wit yeast, minimal pumpkin spice, flour tortillas, pumpkin candle, squash, a dash of corn meal, flat Vernors soda, sweet corn, pumpkin Gummy Bears, Splenda, jicama, and a touch of brown sugar. The taste offers up flavors of navel orange peel, Satsuma, canned apricots, pith, pumpkin chap stick, multivitamin juice, a touch of nutmeg, Kiks cereal, salt, and leaves behind a dry aftertaste of wheat grain.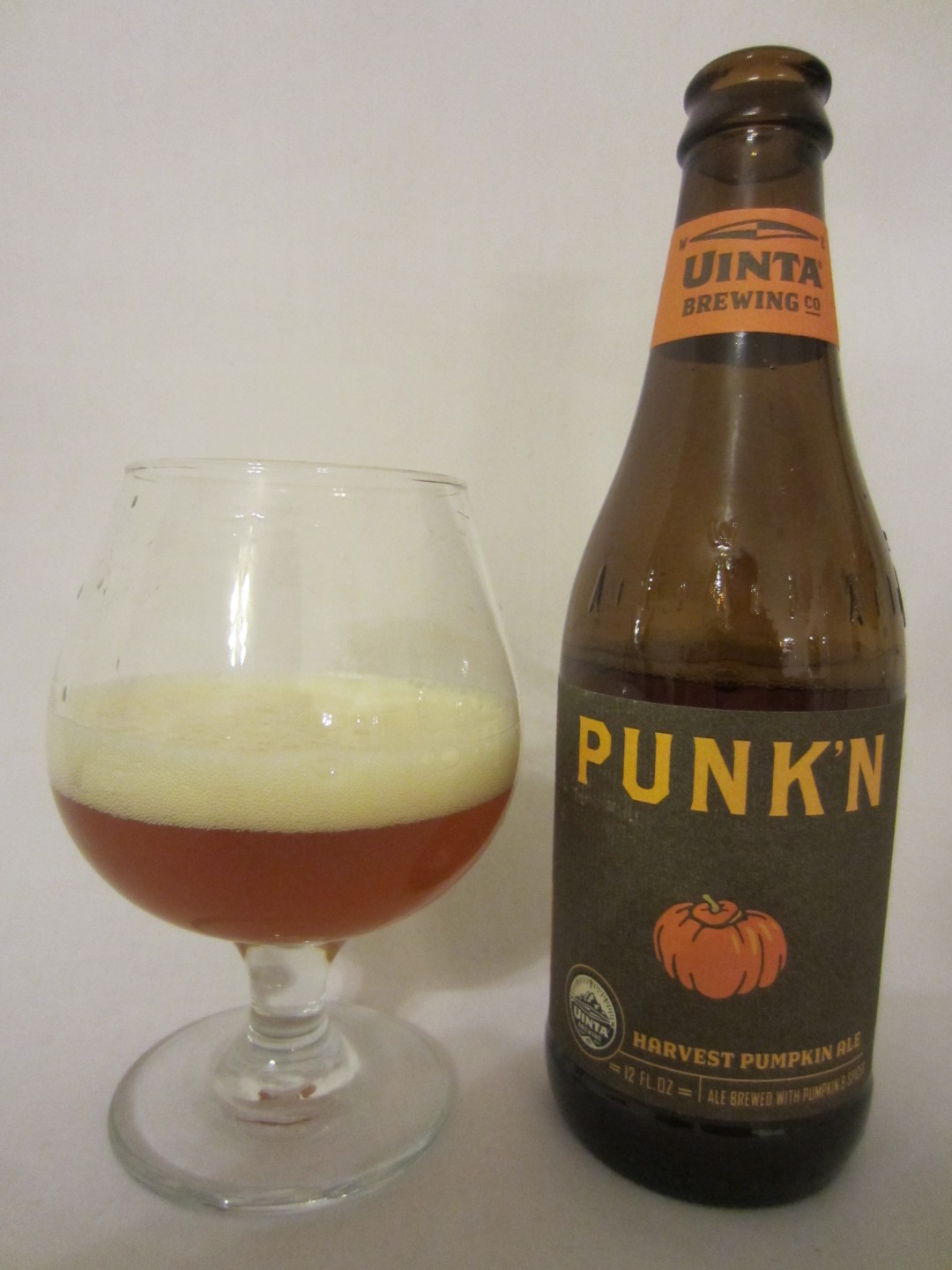 34. Punk'n Harvest Pumpkin Ale – Uinta Brewing Company: We were hoping for a bit more pumpkin character and sweetness from this medium bodied, pumpkin colored brew out of Utah. The aroma exhibits elements of rye, twigs, Wasa multigrain crackers, flaxseed, sesame seed, mild pumpkin, and a hint of ginger.  The taste is dry, with a mildly creamy mouthfeel, and notes of rye, cream of tartar, black tea, Lincoln Logs, and unsweetened snickerdoodle dough, with a tannic aftertaste and a note of Wheat Chex.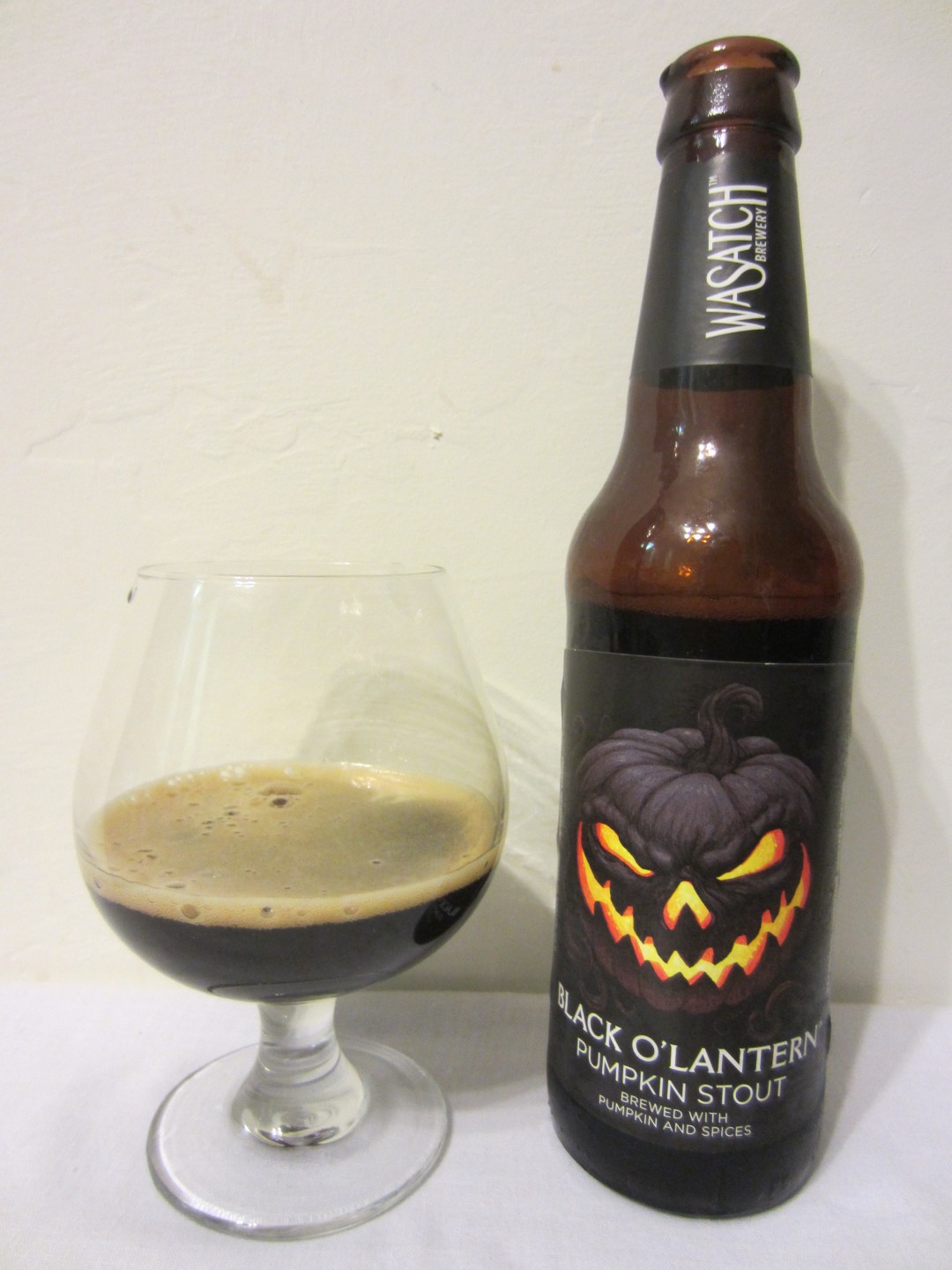 33. Wasatch Black O'Lanter: Another offering from Salt Lake City, although a bit low in ABV (6.5%) to be called an "Imperial Stout (let's call it a "Utah" Imperial), this coffee black pumpkin beer reveals scents of roasted malt, molasses, vague soy sauce, twigs, subtle booze, licorice, cedar, and desertbroom bush. The flavor is medium-sweet with notes of volcanic rock, black licorice, chocolate powder, and a hint of root beer barrel candy and nutmeg. Fun fact: apparently, the word "Wasatch" comes from Paiute and Ute Indian phrase meaning "frozen penis"; lucky no Wasatch was detected in this beer.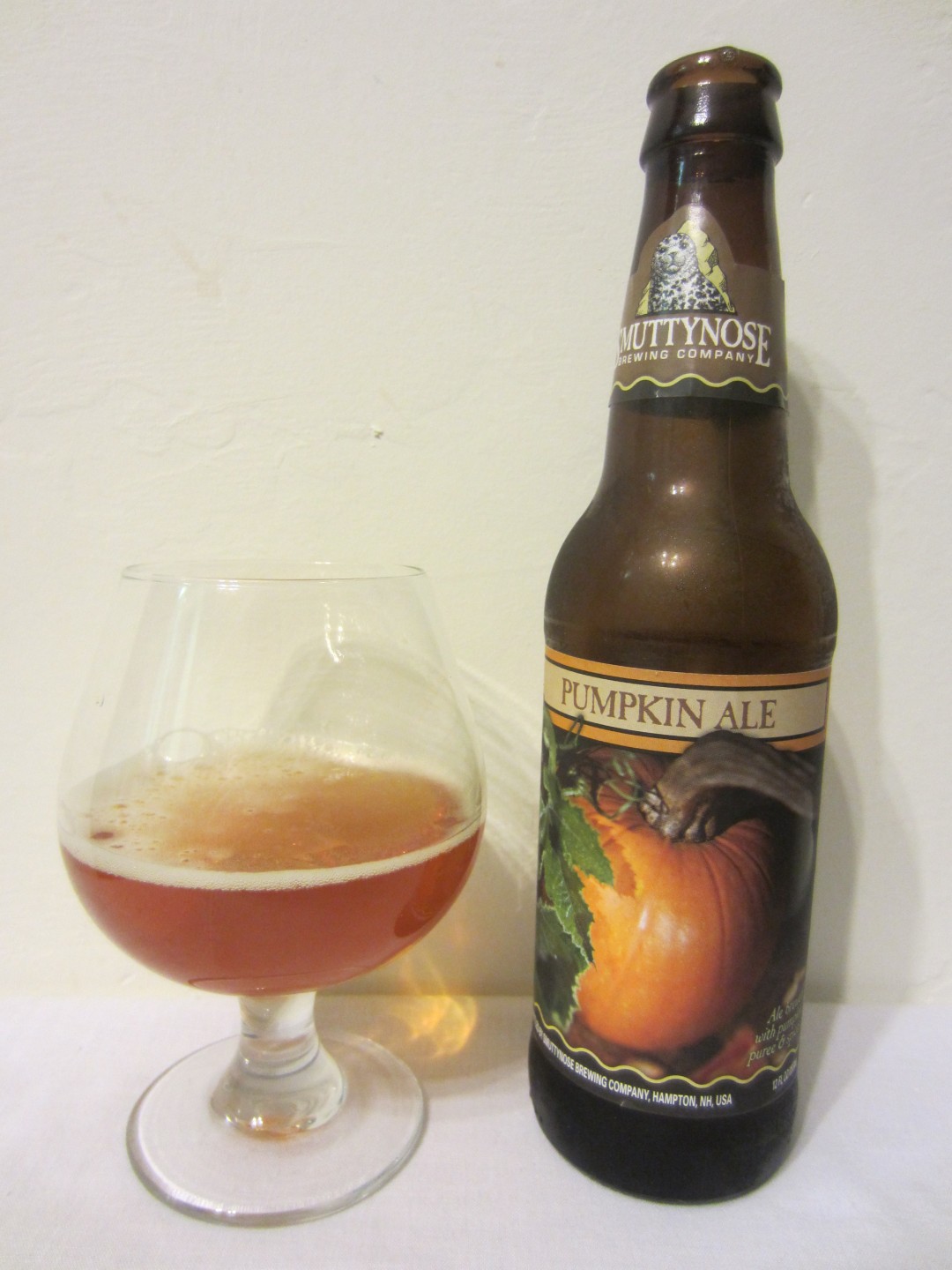 32. Smuttynose Pumpkin Ale: Aside from a touch of ginger in the nose, a dark pumpkin colored body, and an image of a pumpkin on the label, this pumpkin ale offers only mild hints at any outstanding pumpkin character.  The aroma is suggestive of spiced gum drops, floral components of jasmine and pansies, dusty tangelo peel, toffee, light cream soda, ginger root, menthol, and chocolate covered orange stick candy. The panel uncovered flavors of dry pecan shell, lavender, soapy, perfume-y, pithy, Bergamot tea, some hop bitterness, lemon, salty, over-steeped chamomile tea, and green hay with a bit of an oily mouthfeel in this medium bodied ale.  The beer concludes with a bit of a lingering tannic bitterness in the aftertaste.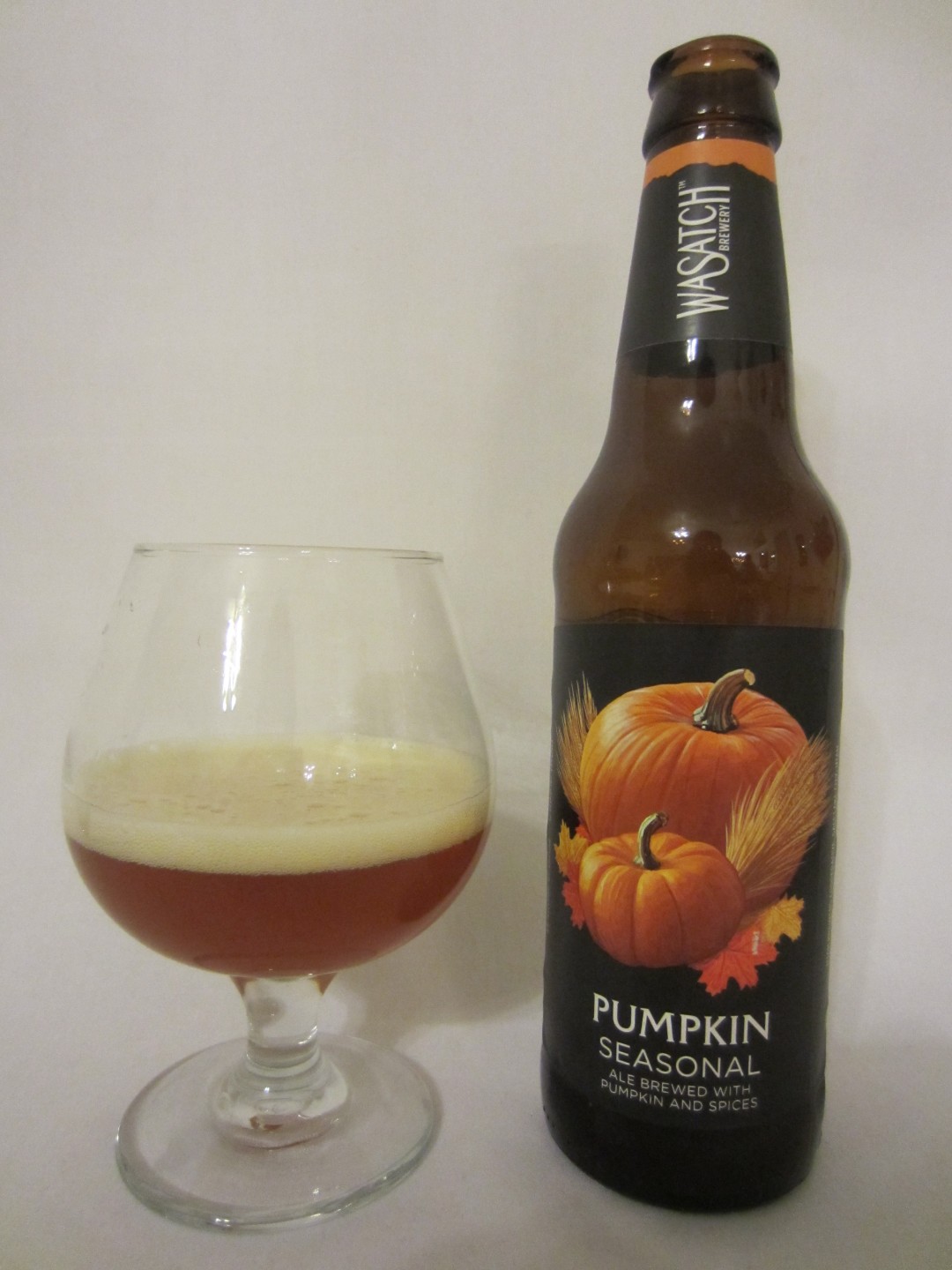 31. Wasatch Pumpkin Ale: With little in the way of pumpkin pie spice in the aroma (perhaps only ginger), it was predominately pumpkin (squash) that took center stage in this Wasatch pumpkin production.  Unfortunately the pumpkin seemed past its prime, aged and pasty, with lactic components like pumpkin cheesecake made with mildly sour milk, rattan wood, and parsnip. Luckily, the taste was an improvement over the aroma, revealing typical pumpkin pie spices like nutmeg, ginger, and allspice, nevertheless the beer was nearly flat, watery, papery, and waxy. Although not particularly sweet, tasters noted a Splenda-like artificial sweetener character with hints of nutmeg and cumin in the aftertaste.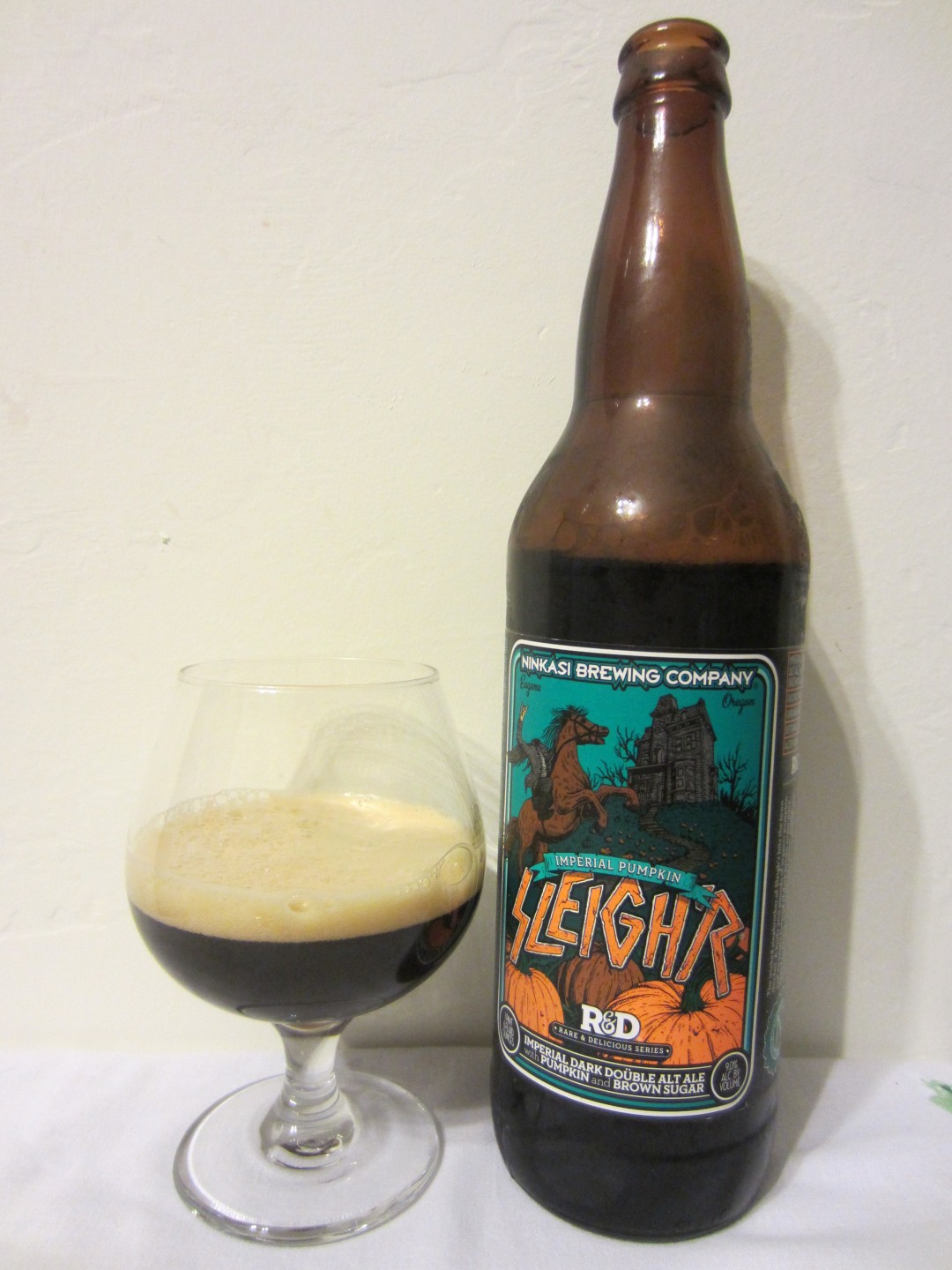 30. Imperial Pumpkin Sleigh'r – Ninkasi Brewing Company: A 2015 newcomer and weighing in at 9% AVB, this full-bodied Imperial Dark Pumpkin beer emphasizes the "Imperial" over the pumpkin with notes of booze-soaked raisin bread, freshly lacquered wood, and Elmer's glue punching through the nose. The aroma also offers up hints of Red Twizzles, dates, cocoa powder, and brown sugar. Pumpkin comes through not really as a flavor component in this case, but instead as a thick, rich, syrupy mouthfeel sensation.  Notes of banana Laffy Taffy, dates, leather, caramel, cedar and ash appear in the taste, but the prevailing character of this "Doüble Alt" is booze, which if better integrated and balanced with the pumpkin, could set up Imperial Pumpkin Sleigh'r as the beer to beat next pumpkin season.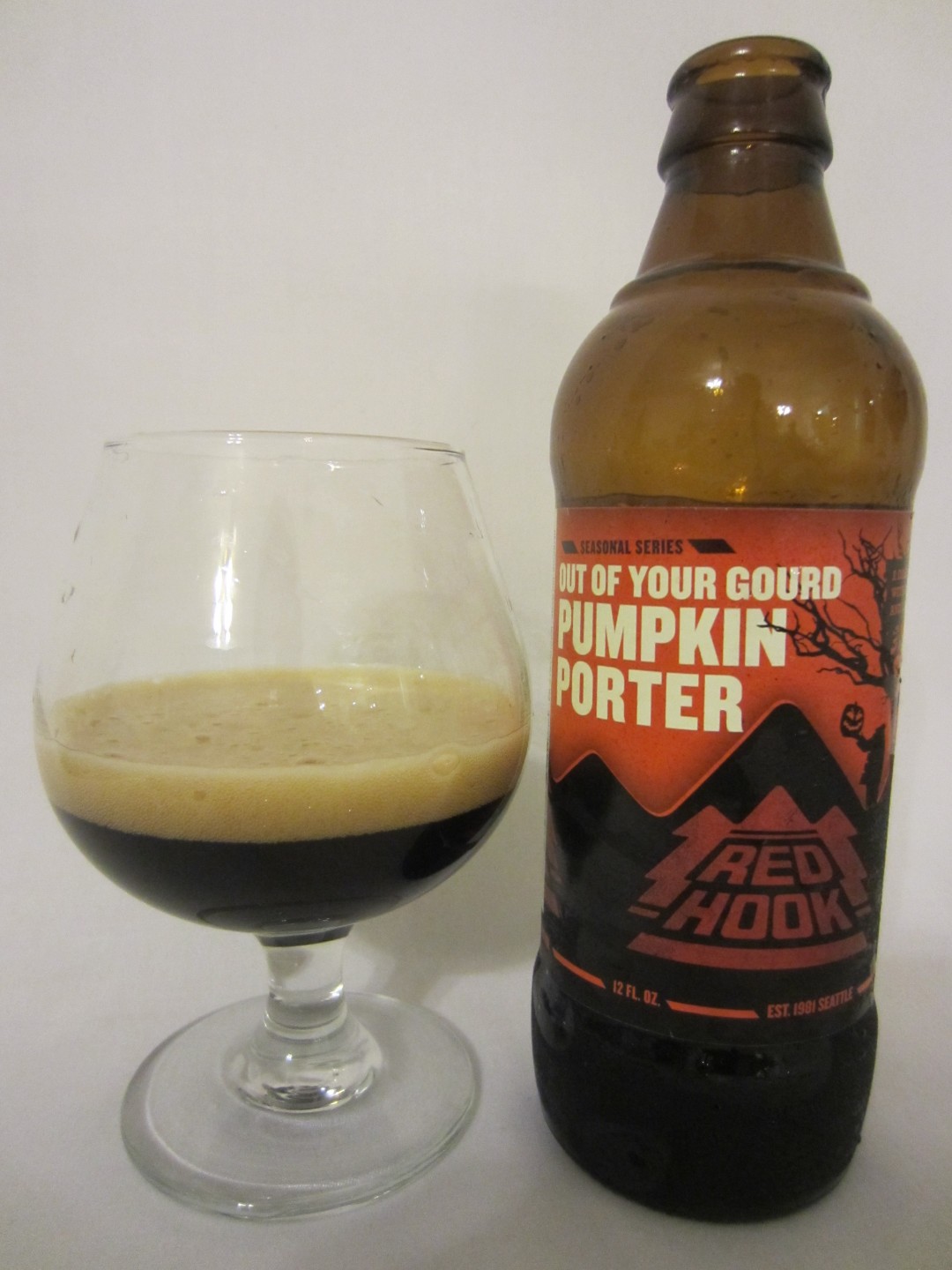 29. Redhook Out Of Your Gourd Pumpkin Porter: Though this coffee black porter may only offer flashes of mild roast in the nose, there is absolutely no mistaking its dominating character in the taste. The aroma presents notes of new leather shoes, pleather, a hint of anise, German multigrain bread, flannel, solidified dark molasses, bamboo shoots, dry potting soil, with an absolute minimal roast (old campfire). The highly roasty taste interferes with and overshadows what pumpkin character there is. The tasting panel picked out elements of heavily roasted pumpkin chunks, perhaps pumpkin dark wheat pita chips, pumpkin seed, followed by notes of burnt toaster crumbs, ashy water, a touch of peat, and a semblance of hops.  Aftertaste? You got it: roasty.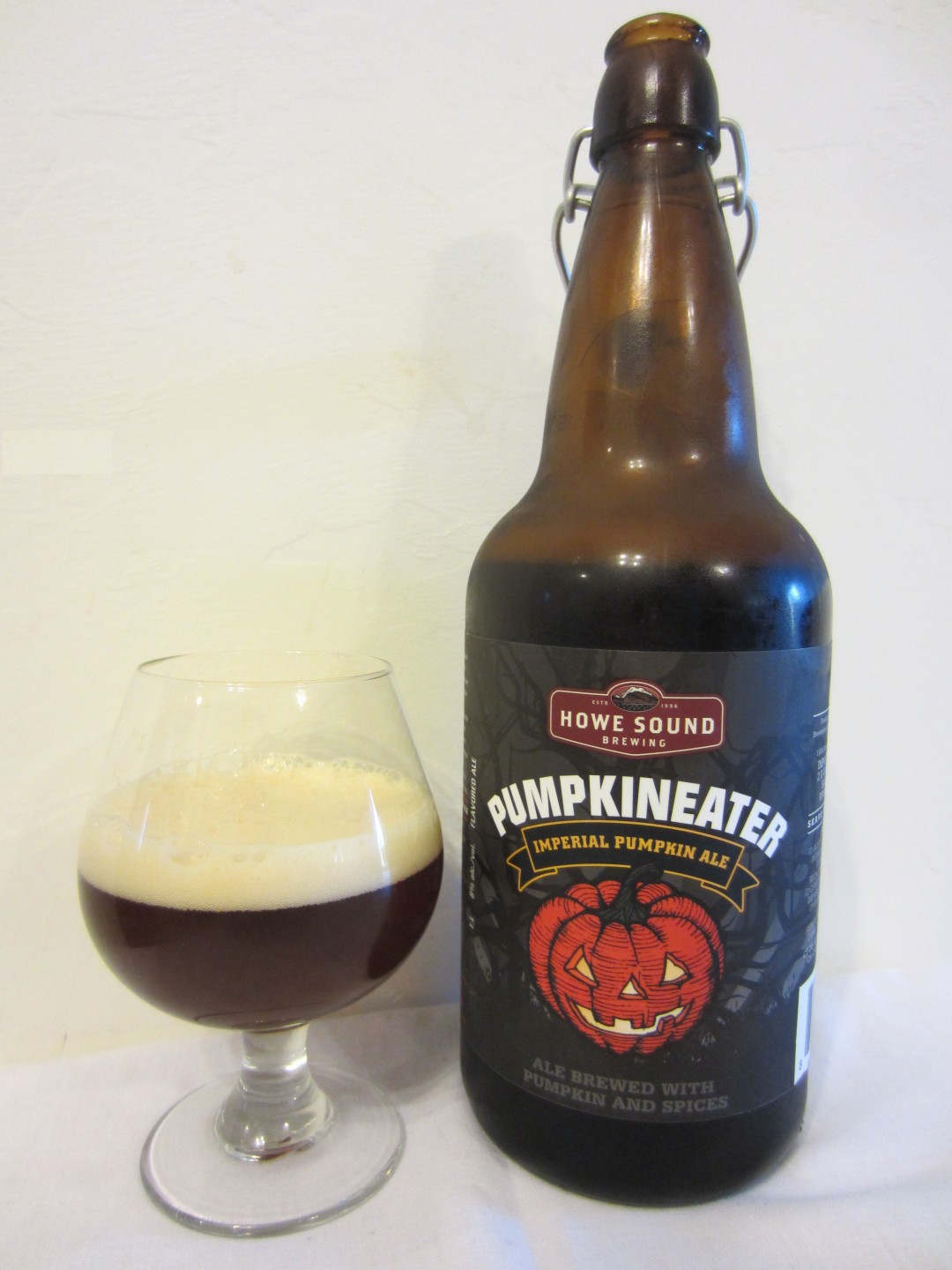 28. Pumpkineater – Howe Sound Inn & Brewing Company: Heavy on the spice, and even though not brewed with ginger, Ginger Snap Cookie was unavoidable in the nose and taste, albeit the taste could have benefited from a bit more sweetness to balance out the spice. With a transparent Lipton Tea colored body, and a finger of thick buff head which lasts a solid minute, leaving a bit of lacing inside the glass, Pumpkineater exhibits inviting aromas of ginger snap cookie, ginger bread, cloves, dough, and autumn brown leaves. Taste: ginger bread, pleasantly medium-low sweetness, worn leather, chai tea, mild cinnamon stick, nutmeg, clove, and finishes with tannic ground spice which lingers into the aftertaste.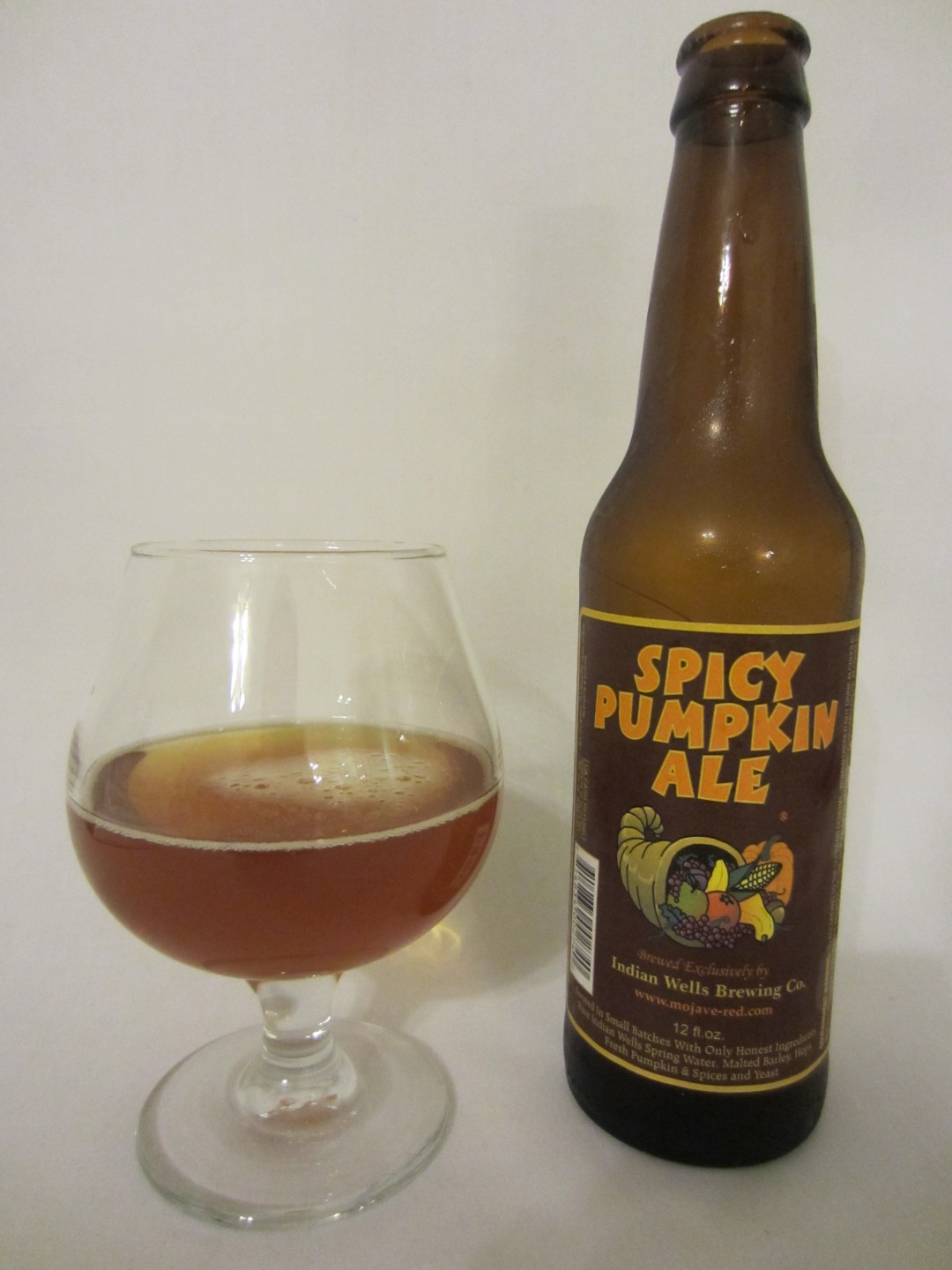 27. Spicy Pumpkin Ale – Indian Wells Brewing Company: While the beer produced only a film of light tan head which dissipated quickly, the aroma held some promise with notes of cinnamon-scented wicker basket, banana bread, pumpkin chap stick, vanilla yogurt, light brown sugar and nutmeg. Unfortunately, the taste didn't live up to the aroma and was underwhelming in part due to its thin, watery character, which was only accentuated by the nearly flat level of carbonation. Other flavors in this lightly sweet spiced beer are butternut squash, pumpkin potpourri, cinnamon, allspice, and yeast, ultimately finishing dry and mildly astringent.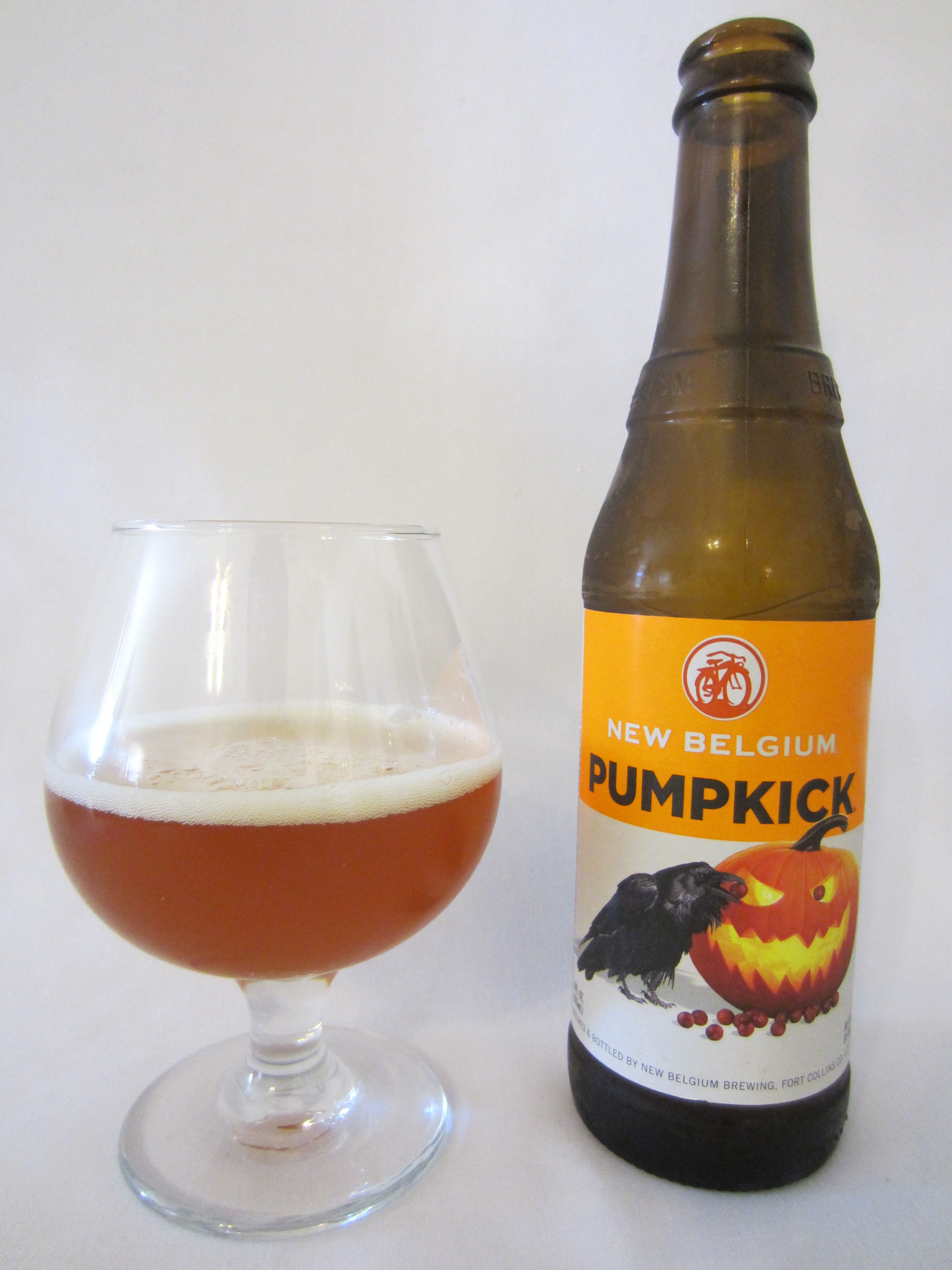 26. Pumpkick – New Belgium Brewing: Although New Belgium changed things up a bit this year by adding a "kick" of cranberry juice to their pumpkin beer, the cranberry character tends to get lost in the shuffle of the other competing spices and may not necessarily be perceived as cranberry, if at all. In the aroma, the tasting panel detected notes of apple cinnamon yogurt, canned pumpkin purée, faint ginger snap cookie, uncooked sliced zucchini, pumpkin buttermilk, and soggy bran cereal. The flavor was reminiscent of New Belgium's flagship amber ale, Fat Tire, but with a vaguely sweet character of apple cinnamon cut with a certain acidity and pithy dryness.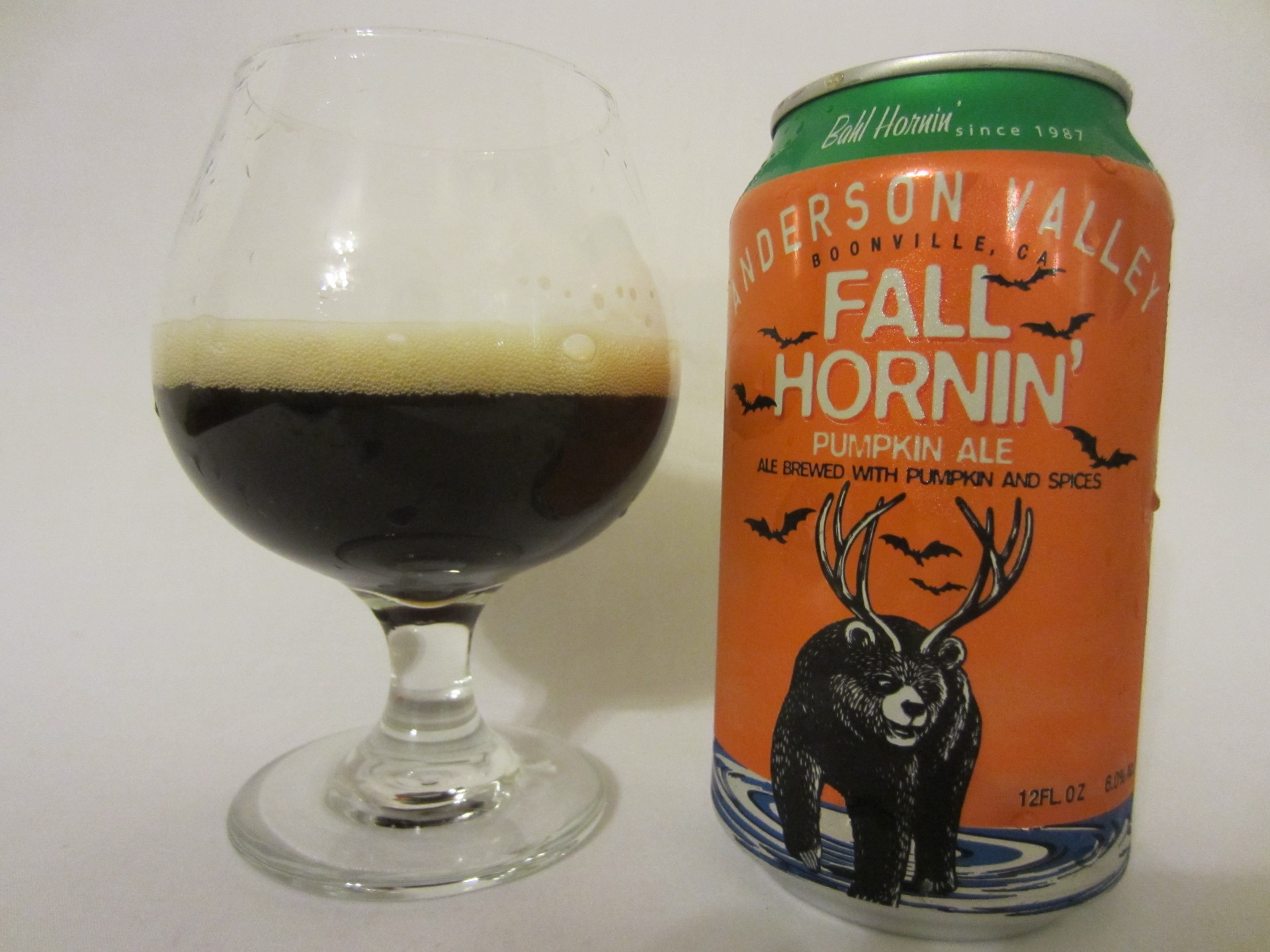 25. Fall Hornin' – Anderson Valley Brewing Company: Even though this medium bodied, dark colored ale is unmistakably a pumpkin beer, offering both characters of acorn squash and pumpkin pie spice throughout, some tasters felt that it struggles in the taste to reign in some of the dry, borderline harsh, components generated perhaps from the spice. The ale pours a black coffee color with ruby highlights and excellent clarity, topped with a ¼ inch of dark tan head. The aroma is mild with pleasant hints of pumpkin candle, Coke float (Coke & vanilla ice-cream), earthy acorn squash and brown sugar, and is lightly spiced with ginger, cloves and allspice. The taste is only mildly sweet with a flat RC Cola-like character, a touch of vanilla and some squash as it warms which is tempered with dry, bitter, almost tannic notes of spices like baked ginger, cardamom, and a touch of salt. Aftertaste is dried spice and twigs.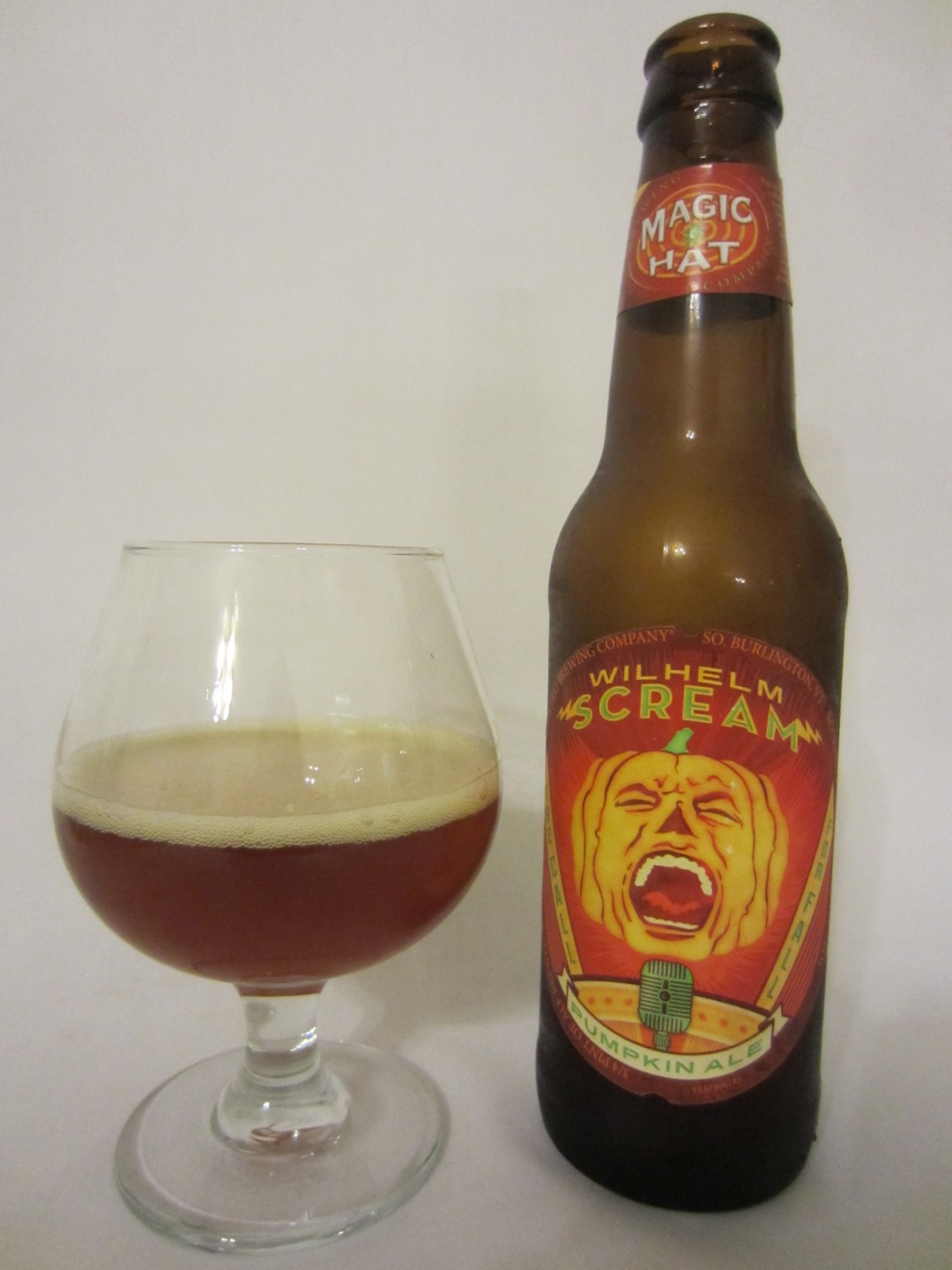 24. Wilhelm Scream Pumpkin Ale – Magic Hat Brewing Company: This peach tea-colored, medium-bodied pumpkin beer from Magic Hat could stand to gain from a bit more sweetness and pumpkin in the taste to match its promising aroma. Pumpkin pie spice comes through clearly in this well-balanced aroma, along with notes of peanut shell, pumpkin snickerdoodle, dry autumn leaves, zucchini, and pumpkin pie filling. The taste is semi-dry and a bit thin, but displays flavors of brown sugar, walnut shell, dry leaves, jicama, copper, faint anise, mild cola, with a turnip-like bitterness, and an aftertaste of fresh ginger and allspice.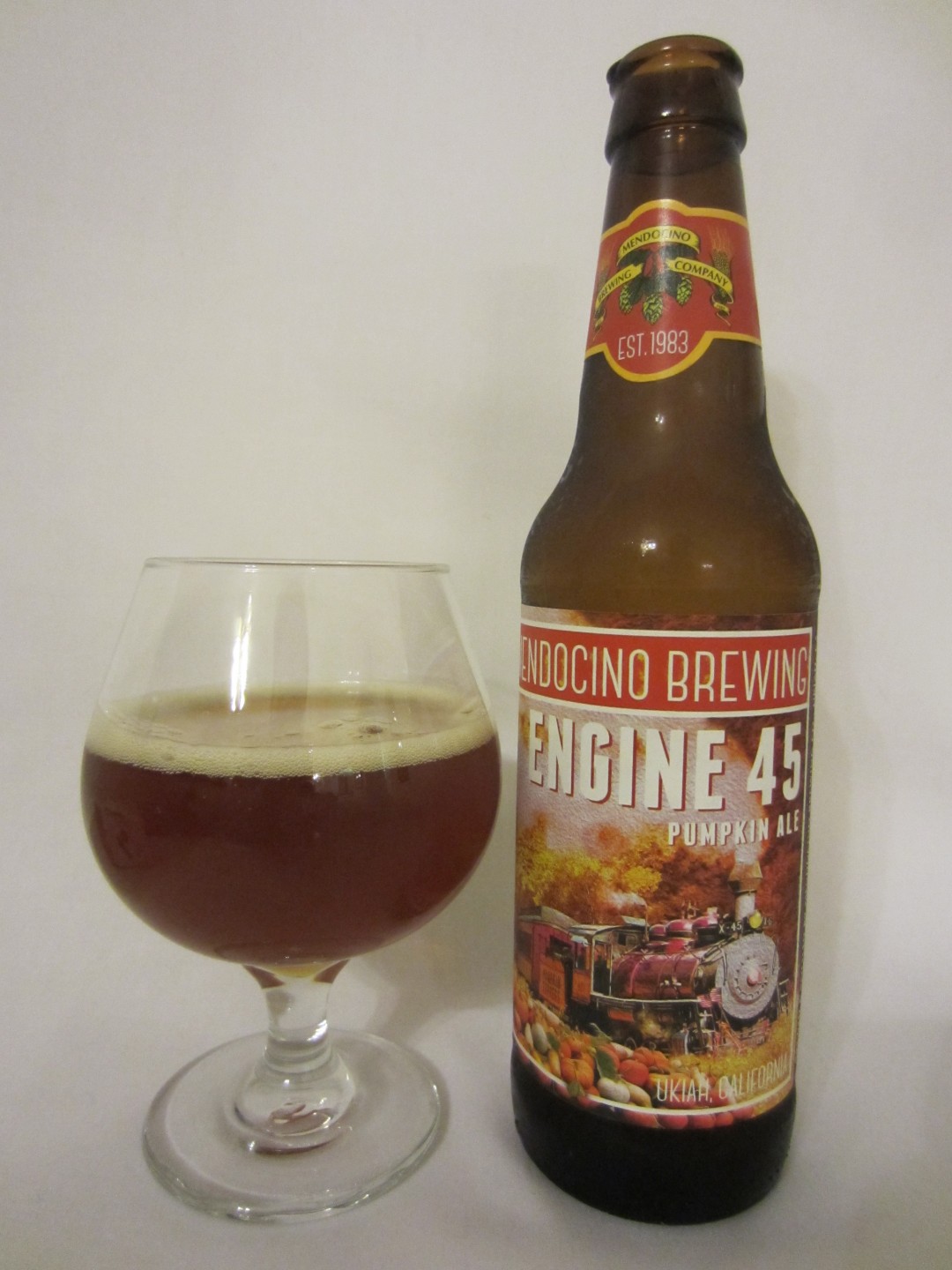 23. Engine 45 – Mendocino Brewing Company: This hazy dark copper ale offers a promising aroma of waxy cold cooked pumpkin with mellow spices of nutmeg and ginger. The taste, albeit a touch perfume-y, generally reflects the aroma but is somewhat plain, with an unsweetened Lipton tea character, mild nut shell and dry leaves, and finishes with a mild presence of alcohol.  Vague allspice is noticeable in the taste, but overall the beer could benefit from a greater variety and balance of spices.  The aftertaste is a touch tannic with a slice of fresh ginger.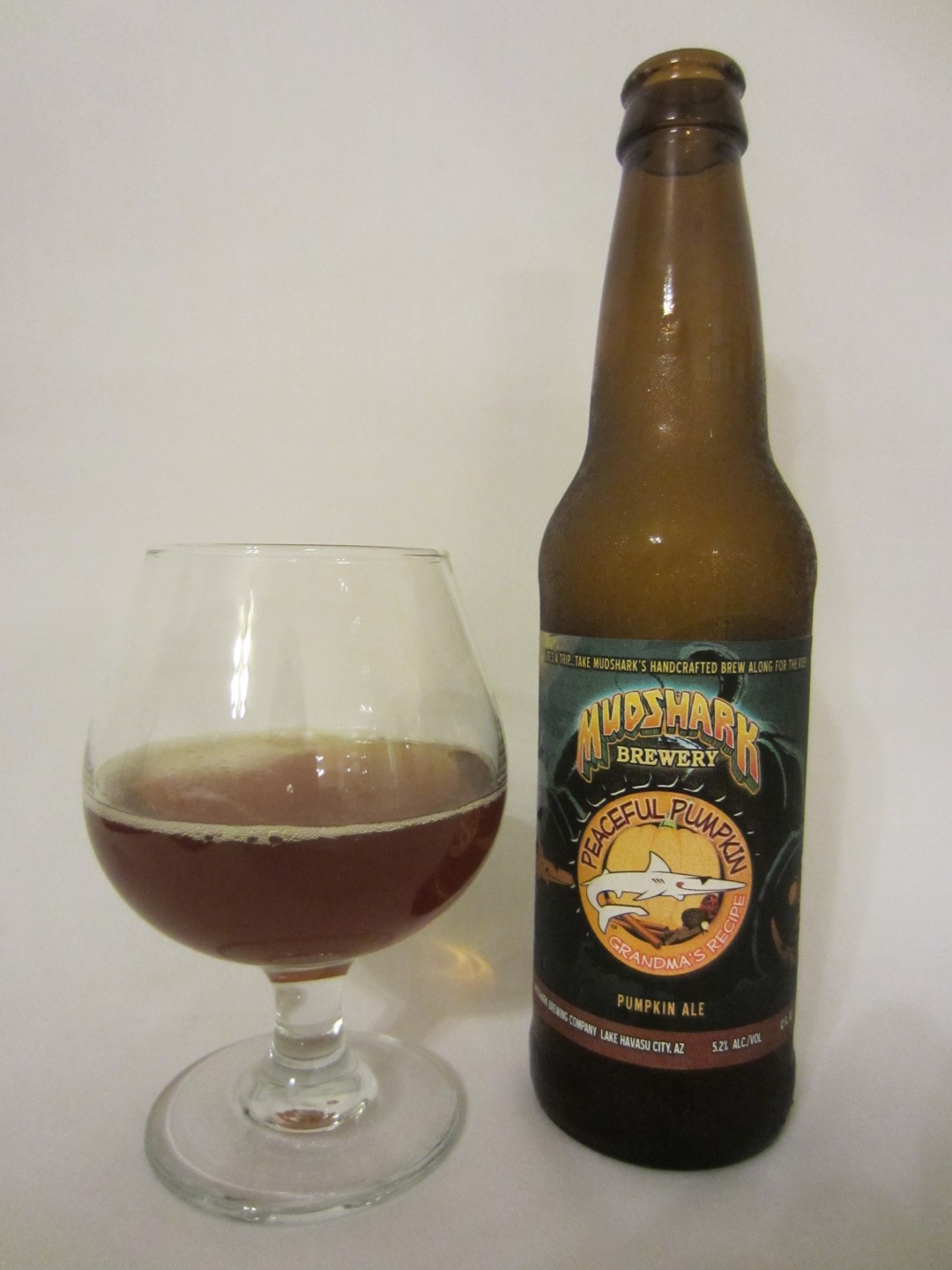 22. Peaceful Pumpkin – Mudshark Brewing Co.: The brew is easily identifiable as a spiced pumpkin beer from the aroma alone. Pouring a slightly hazy dark copper colored body with minimal head, the aroma here is pumpkin pie filling with spices of nutmeg and cinnamon along with baked pie crust, milk-soaked Cinnamon Toast Crunch, a hint of banana, unripe green grapes, boiled pumpkin, a touch of ginger snap cookie, and a trace of dry apple cider as the beer warms. The taste is lightly sweet with notes of cold chai tea, squash, salt, a touch of astringent ginger, mild booze in the finish, with medium carbonation and a somewhat oily mouthfeel, leaving behind a bit of over-steeped tea in the aftertaste.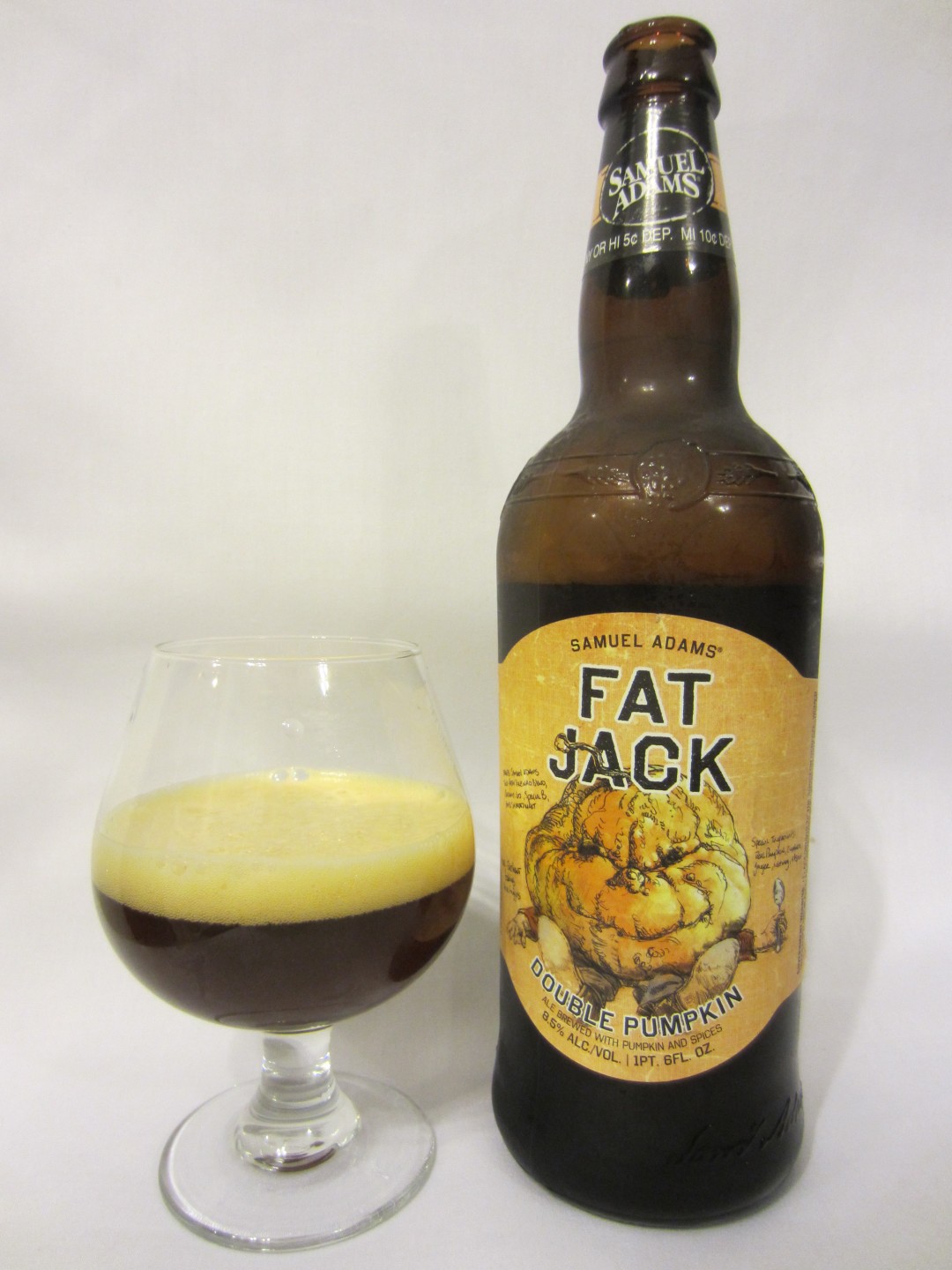 21. Samuel Adams Fat Jack Double Pumpkin Ale: This deep red-copper double pumpkin ale from the Boston Beer Company emits fragrances of anise, mild nutmeg, Boston brown bread, brown sugar, diluted molasses, tamarind, cedar wood shoe horn, a hint of cola slushy, faint leather and a touch of smoke. The flavor is spice-forward and heavy on the ginger, with a thick, creamy, almost corn-starchy mouthfeel. Other flavors include teriyaki sauce (think the sweet thick kind that coats Beef and Broccoli), water chestnut, salt, black licorice, smoked malt suggestive of cured ham, clove, allspice, pumpkin purée, mild whiskey barrel, mulch, and booze mid-palate, leaving an aftertaste of ginger and crunchy autumn leaves in the mouth.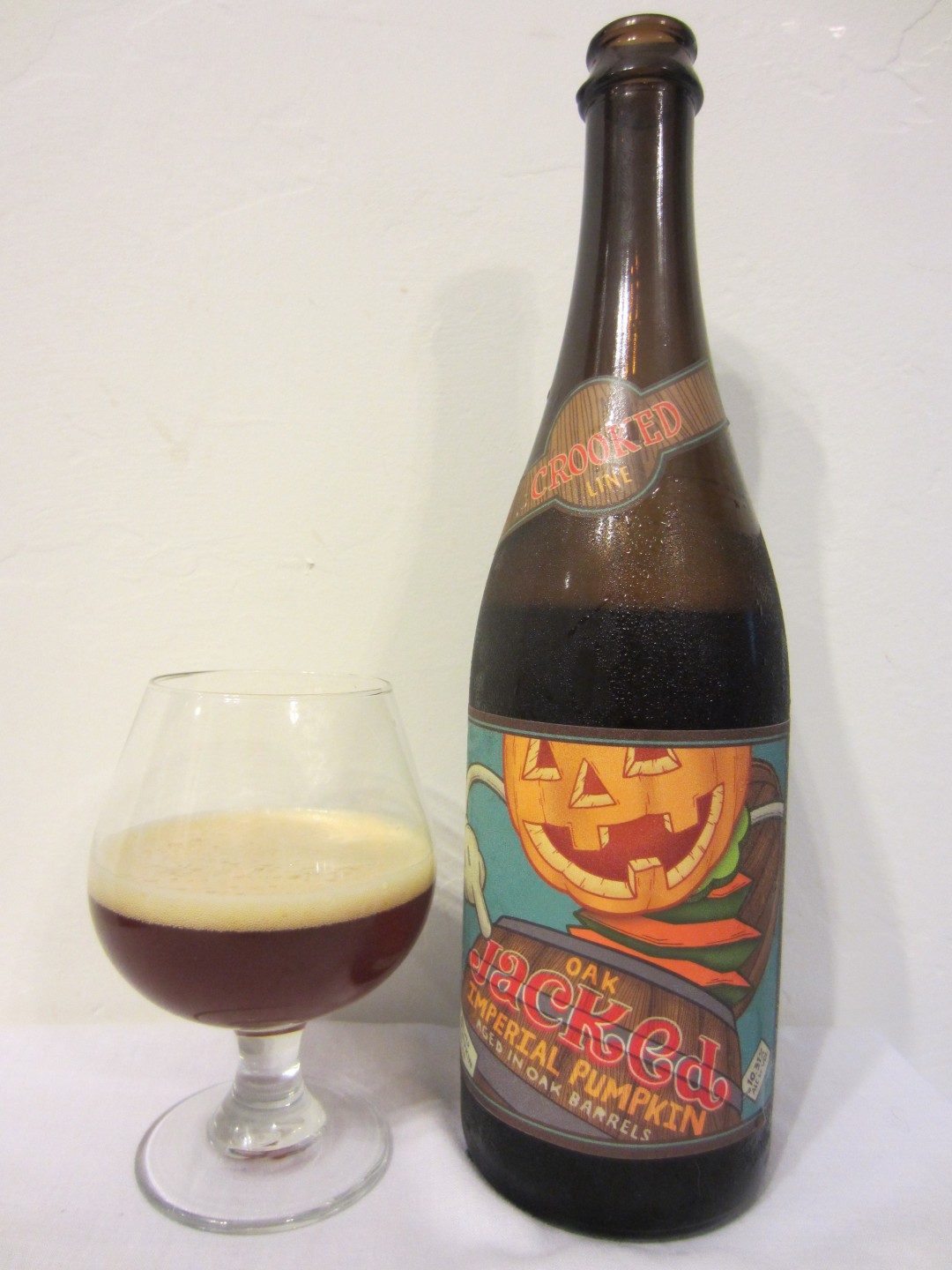 20. Oak Jacked Imperial Pumpkin Ale – Uinta Brewing Company: Yet another offering hailing from Salt Lake City, Utah, this barrel-aged pumpkin beer is justifiably "imperial", boasting an alcohol content of 10.31% (the official ABV of Halloween), and while light on the spices, it clearly spent some time in the wood.  But just because the hashtag "barrel-aged imperial" is trending on Twitter this week, doesn't mean we forget about balance.  Tasting notes: Aroma is gin, cedar and hops, brown sugar, resin, mesquite sap, Oreo cream filling, marshmallow coated yams, pumpkin skin, and cola Freezie. Taste: sliced bamboo shoots, mild well-masked booze character of saké and gin mild-palate, juniper berry, creamy mouthfeel, raw oats, cornstarch, medium-high sweetness, fermented pumpkin pie filling, mild maple wood character seems to mute notes of spices of ginger, clove, cinnamon, and allspice.  Finishes dry and bitter.  Appearance: 15-16 SRM, hazy, one minute of tan head.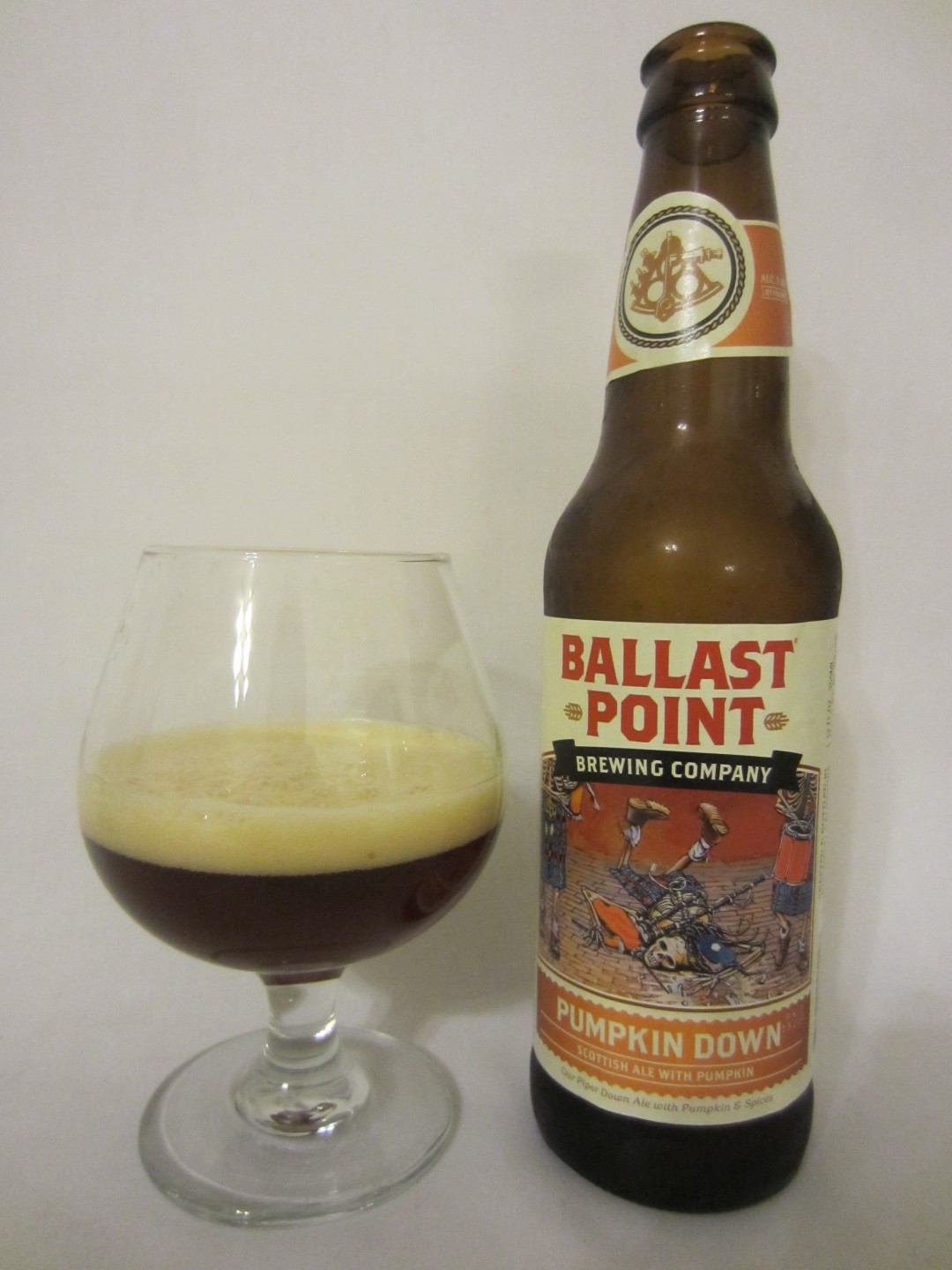 19. Pumpkin Down – Ballast Point Brewing Company: This nicely spiced (but low on the pumpkin), medium-full bodied Scottish Ale pours a nearly transparent dark mahogany body which develops a finger of dark tan head with excellent retention and some lacing. The aroma presents sweet notes of Baked Apple Pie from Mcy Ds, untoasted raisin English muffin, cinnamon raisin bagel, anise, dry pinecone, dark Karo syrup, and one panelist felt a certain peachiness suggestive of peach yogurt, Lipton peach tea, peach pie with the crust, and lastly, perhaps a hint of "Ocean" scented blue candle. Cinnamon raisin toast comes through in the taste, along with walnut skin, raw pie crust, tea, and one taster picked up mildly sweet curry potatoes.  The aftertaste leaves the palate with a bit of astringent allspice, ink, and booze.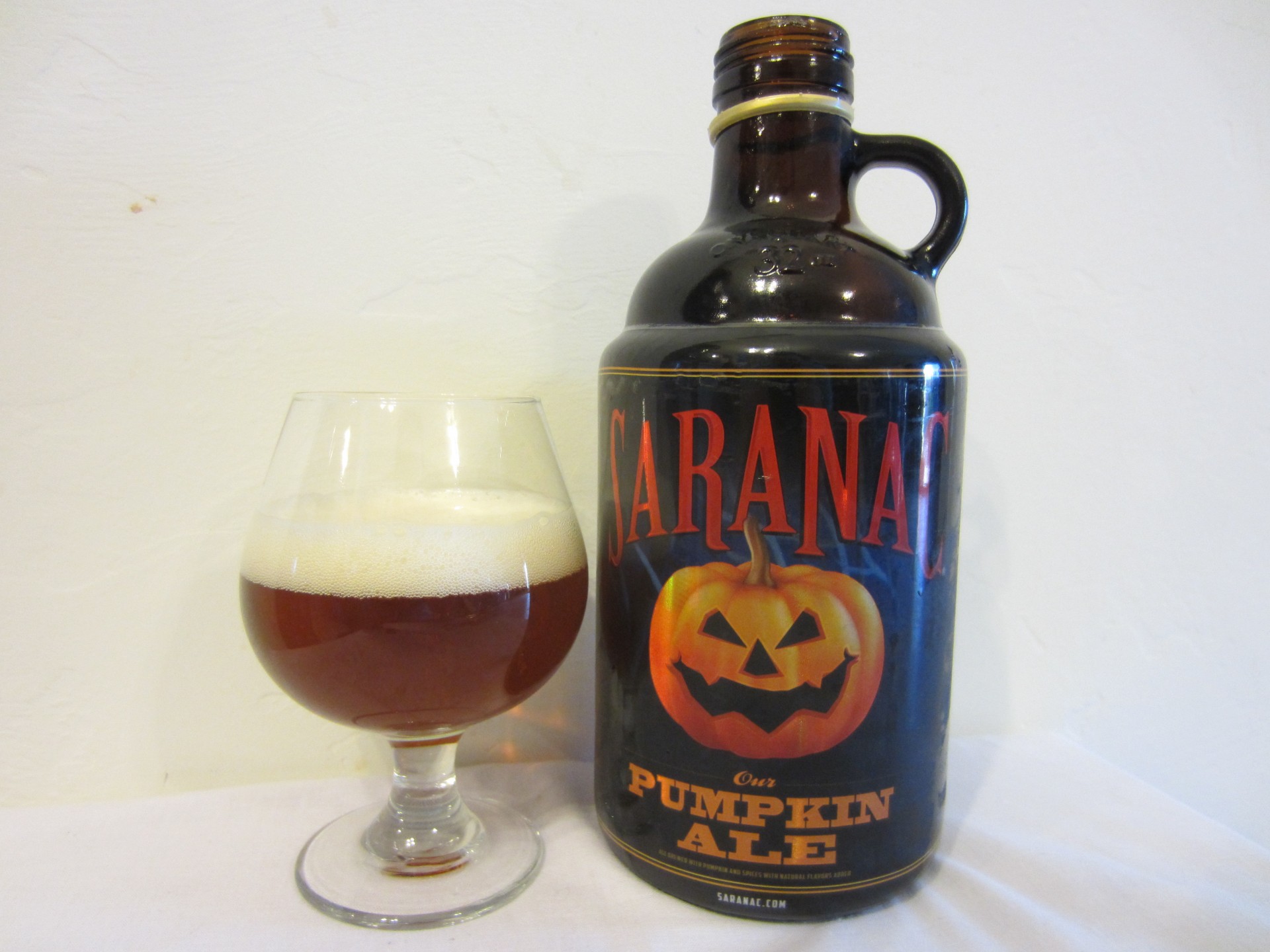 18. Saranac Pumpkin Ale – Matt Brewing Company / Saranac Brewery: For a pumpkin beer, this medium-bodied brew does a pretty good impression of an English Brown Ale (hint: rhymes with "Knew Kassel"). Saranac pours a transparent dark copper body with a finger of creamy thick tan head which hangs around for a solid 30 seconds. Our panel picked up on whiffs of nutty amber ale, sun tea, cola slushy, walnut shells, pecan skins, and dry autumn leaves in the nose.  The taste was lightly nutty, mildly sweet, a bit tannic like long steeped black tea, a hint of dry sticks with a dry finish. Mouthfeel may be a touch thin with medium-low carbonation.  Overall, a tasty and thoroughly drinkable ale, but not much in the way of pumpkin— the squash or the spice.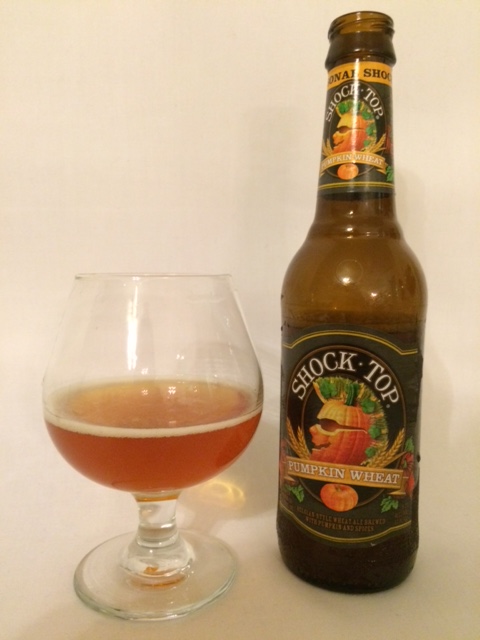 17. Shock Top Pumpkin Wheat: Despite being an Anheuser-Busch "crafty" beer, Big Beer gets some credit with this pumpkin Belgian Wheat brew for not only incorporating real pumpkin, but also outperforming several other authentic craft pumpkin beers. This hazy burnt orange colored seasonal exhibits aromas of butter cookies, muted pumpkin, angel food cake, ginger, coriander, cinnamon, candy corn, wax, Corn Pops cereal, waffles, caramel kettle corn, and faint vanilla. Although the flavor is a bit bland, reminiscent of mushy cinnamon-spiced squash, it is nearly full-bodied, wheaty, mildly sweet up front with notes of milk-soaked Cinnamon Toast Crunch cereal, vague nutmeg and butter.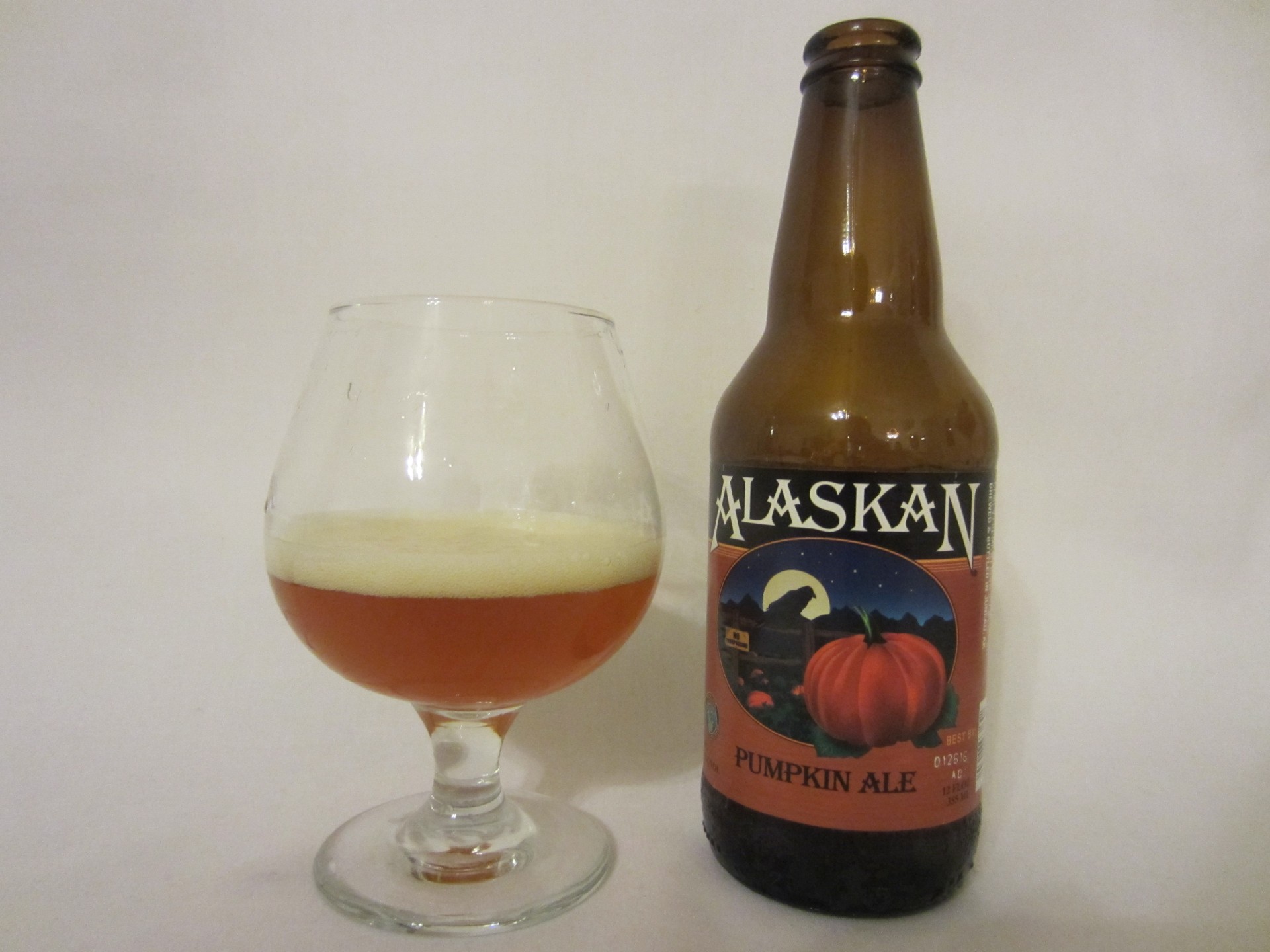 16. Alaskan Pumpkin Ale (2015) – Alaskan Brewing Co.: While the descriptors used for this beer may sound a bit, well, odd, the beer was nevertheless tasty. The brew is pumpkin orange in color, clear, with a frothy light tan head. Surprisingly, the entire panel picked out pleasant meaty notes in the aroma like creamy liverwurst, Honey Baked Ham with the brown sugar crust, summer sausage, along with a hint of root beer barrel candy, sweet clove, and a touch of anise. The flavor reflected the aroma well, with elements of nutmeg, ginger, clove, Cinnamon Toast Crunch, black pepper corn, and of course, Honey Baked Ham.  This beer left us in need of a dinner roll to sop up some of this hammy goodness in a glass!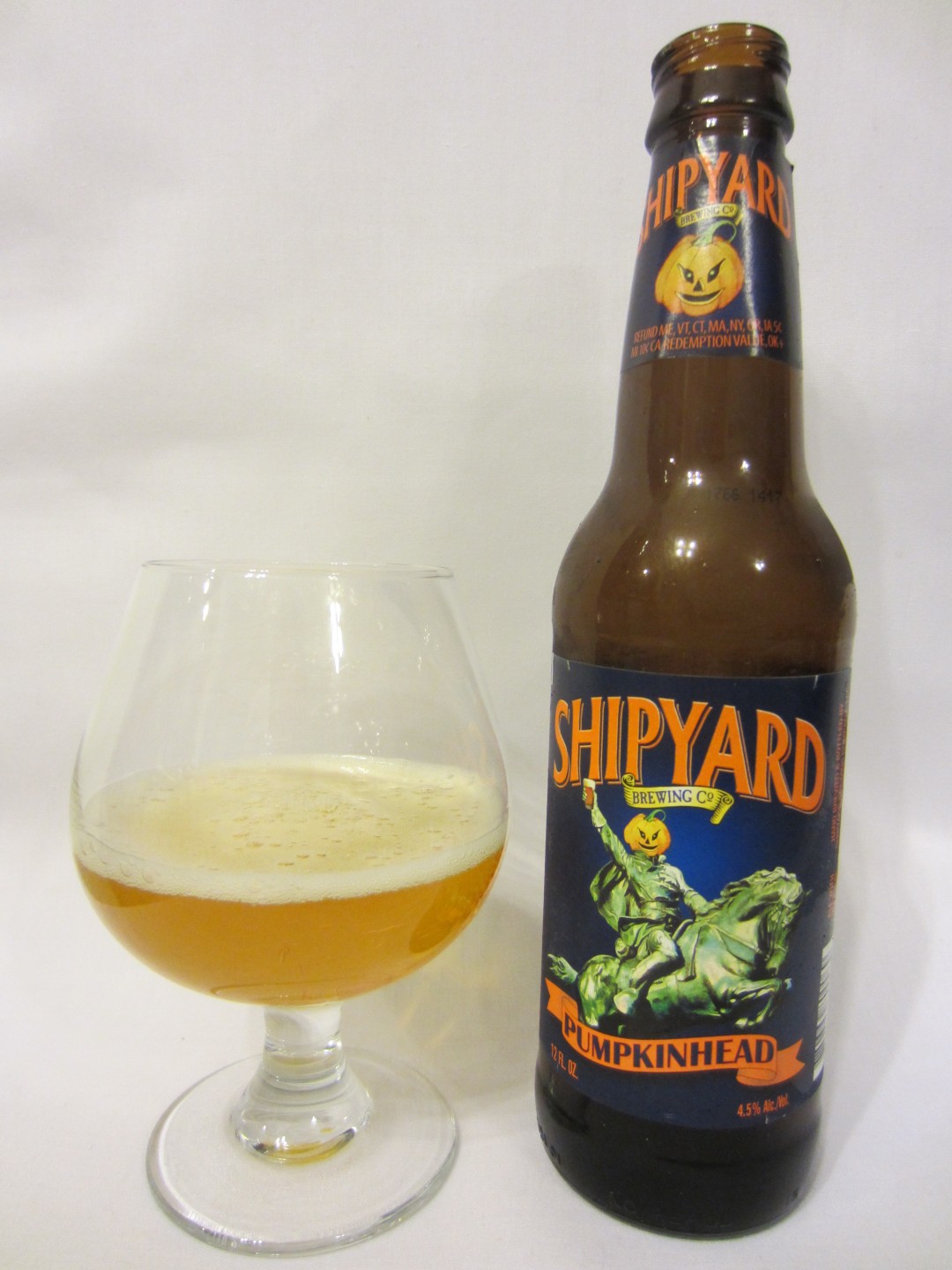 15. Shipyard Pumpkinhead Ale: In a blind taste test, our panel couldn't consistently tell the difference between Shipyard Pumpkin Ale and next beer on the list, Kennebunkport (KBC) Pumpkin Ale.  Both are brewed and bottled at the same facility, both are essentially identical in appearance, and the rumor is that both are in fact the same beer, which might help to explain the only 1/2 point difference in the rank between these beers.  Shipyard exhibits aromas of cold pumpkin pie, Coca Cola, Martinelli's Apple Cider,  ginger snap cookie, faint biscuit, pumpkin bread, oat meal, apple pie filling, clove, nutmeg, cinnamon, and roasted brown sugar.  Shandy-like in the flavor with balance towards the sweet, the panel picked up notes of spiced apple pie, club soda, mild squash, and allspice. 
14. Kennebunkport Pumpkin Ale: (see above)
13. Rogue Farms Pumpkin Patch Ale – Rogue Ales: Rogue's farm-to-bottle pumpkin beer offers a very promising aroma of pumpkin pie, if only the taste could match it. One finger of tan head sits contently on top of this slightly hazy dark rum colored brew.  The panel detected the scent of cold pumpkin pie including the baked pie crust, pumpkin pie filling, whipped cream and all. Other aromatics include brown sugar, cream cheese, butternut squash, and a dash of ginger and cardamom.  Unexpectedly, the flavor is only vaguely sweet (probably as a result of their in-house "Pacman" yeast gobbling up a lion's share of sugar) and a touch on the thin side with notes of ginger, vanilla, orange peel, wheat, nutmeg, clove, cinnamon, and savory pumpkin.  The aftertaste was a bit harsh, dry, corky and pithy.  Panelists also noticed a developing aroma of raw ground beef as the beer warmed.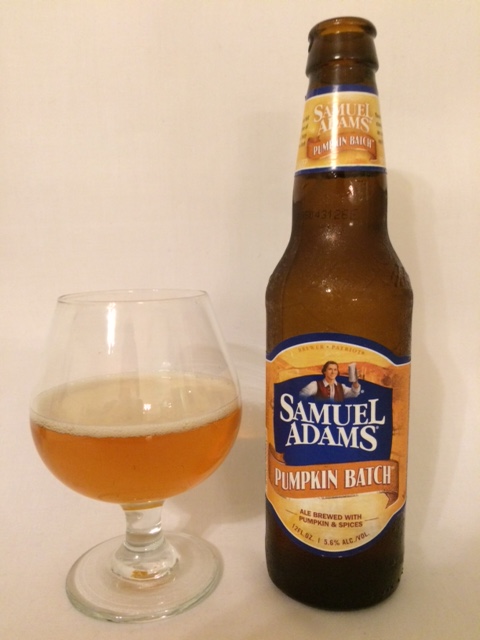 12. Samuel Adams Pumpkin Batch: Some beers scream pumpkin pie, this one barely whispers it. A self-proclaimed Belgian-style Saison, the aroma in this brew is dominated by notes of both Belgian Wit and Saison yeast, followed up with coriander, soft lemon cookies, cotton candy, pink bubble gum, Cream of Wheat, Satsuma flan, custard, and maybe, just maybe, some butternut squash. As the beer warms, subtle pumpkin pie elements of ginger and a touch of nutmeg emerge in the taste along with straw and a bit of overly steeped tea-like astringency.  The beer finishes dry, which is typical of a Saison, but it is under-carbonated for the style.   Overall, a good example of a Belgian Farmhouse ale, but few if any pumpkin beer characteristics are obvious even though the beer contains actual pumpkin and the typical pumpkin pie spices, which makes this beer a definite go-to pumpkin beer for those who'd rather have a Saison.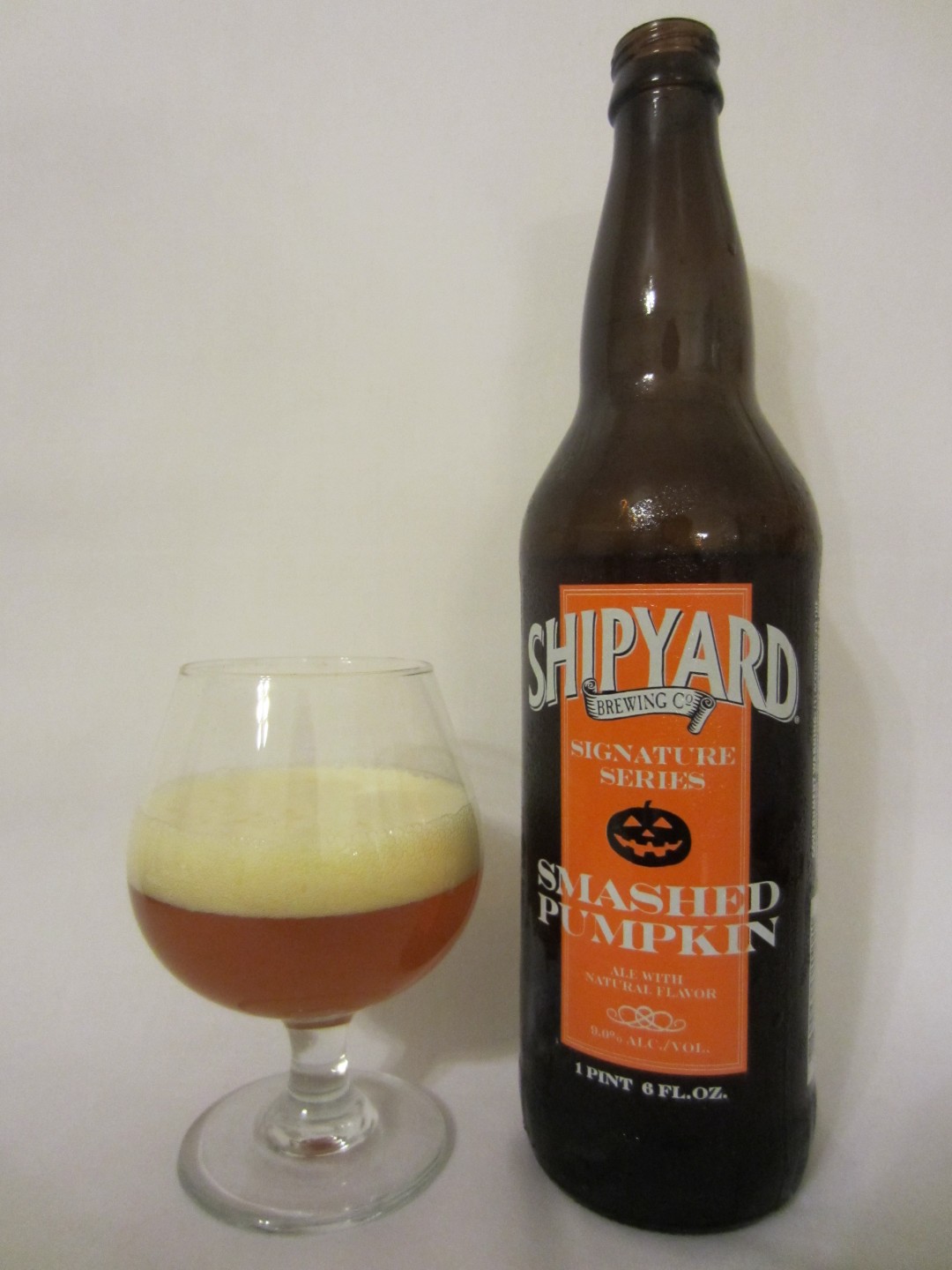 11. Shipyard Smashed Pumpkin – Shipyard Brewing Co.: Smashed Pumpkin is a vaguely spiced, rich, full-bodied, boozy rendition of a pumpkin ale somewhat reminiscent of a Belgian Golden Strong Ale, and a touch on the sweet side. The ale pours a lightly hazy mahogany body with at least a finger of creamy light tan head, while the aroma displays bready characteristic of sweet corn bread, lightly honeyed banana bread, and pumpkin bread. Other notables in the nose are dehydrated apple slices, oatmeal, booze (cachaça), yeast, roasted brown sugar, light green hay, corn meal, grape Laffy Taffy, with a hint of butterscotch and cream soda.  Along with a thick, creamy, milk shake-like mouthfeel, the panel picked up flavors of raw aged pumpkin, plantains, cream of wheat, pine resin, dandelion, starchy cooked white potatoes, perhaps just a touch of nutmeg, and booze, which although pleasant, tends to overpower the pumpkin and seemingly minimal spice.  It was hard to avoid the sensation of alcohol in the aftertaste, and some tasters also got dry wheat, corn cob, and squash.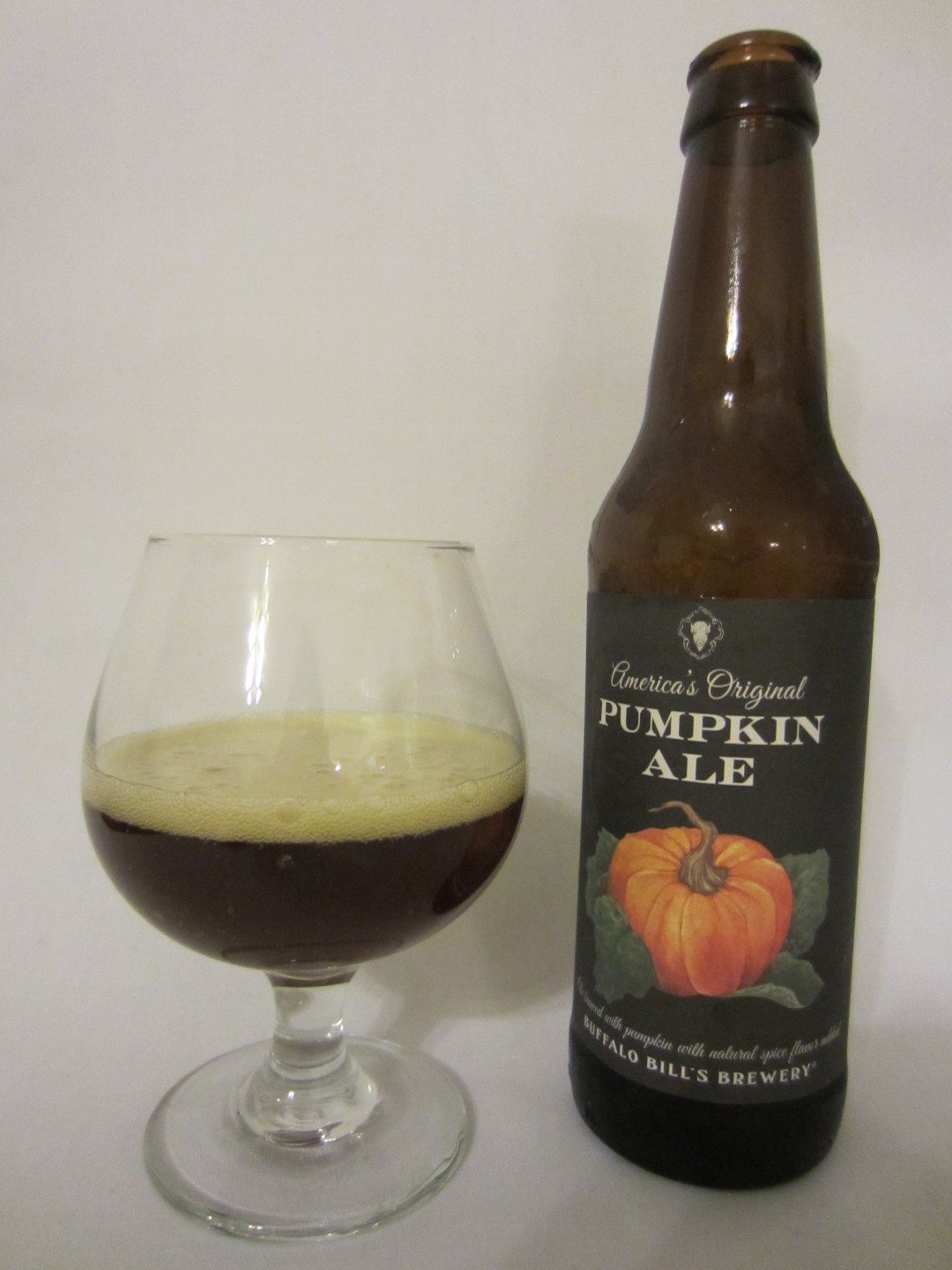 10. Buffalo Bill's Pumpkin Ale – Buffalo Bill's Brewery: The highlight of this pumpkin beer original (brewed since 1985) is the aroma which boasts notes of cold pumpkin pie— crust and all, pumpkin ice cream, vanilla, ginger, cloves, allspice and finely ground cinnamon. A hard pour sets up a half finger of dark tan head which slowly fades over a nearly clear mocha colored body.  First sip is pumpkin pie, barely sweet ginger ale, brown sugar followed up by clove and a dry over-steeped tea-like astringency mid-palate all the way into the aftertaste, leaving behind remnants of spice, squash, and dry leaves.  This pumpkin beer classic would have stood higher in the rankings if but for a little less astringency and a bit more sweetness in the taste.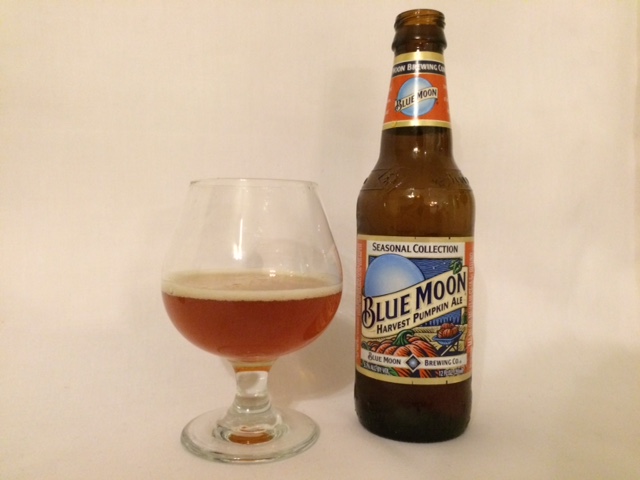 9. Blue Moon Harvest Moon Pumpkin Ale – Coors Brewing: I know, I know.  What the devil is a macro beer doing in the top ten.  We must be corporate shills paid off by Big Beer in a sinister scheme to infiltrate the craft beer market.  Or maybe, just maybe, we were never paid a cent, and Coor's actually did a pretty good job of incorporating (Big Beer pun, get it?) a balance of pumpkin pie spices and real pumpkin into this almost full-bodied, copper colored beer, managing to sneak in some flavor while they were at it.  Notes: Aroma is pumpkin cream cheese, nutmeg, allspice, cinnamon, clove, brown sugar, pumpkin pie filling, light brown sugar, a hint of evaporative milk, and a bit heavy on the ginger. Taste is flavorful, quasi-pumpkin soda brew is pumpkin pie filling, with a desirable level of sweetness, albeit somewhat artificial, that fades mid-palate balanced by hop bitterness, finishing dry and a bit twiggy.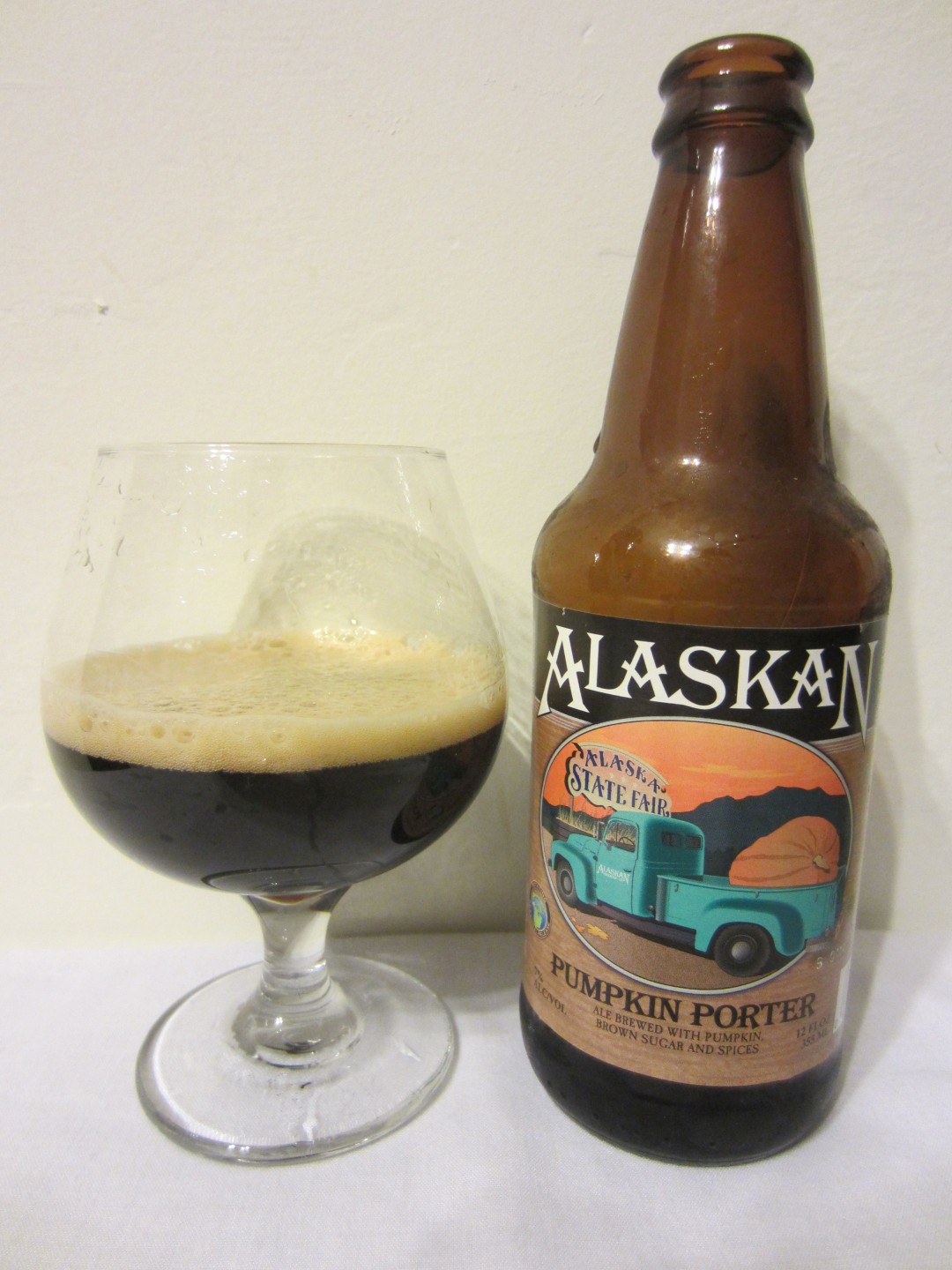 8. Alaskan Pumpkin Porter (2014 Vintage): While sadly there is no 2015 release of this well-regarded pumpkin porter, if you come across a bottle from 2014, you're in for a treat. More reminiscent of dark spiced bread than pumpkin pie, our tasters pulled out a myriad of aromatics to describe this complex pumpkin porter including Pfeffernüsse cookies, warm pumpkin bread, Boston Brown Bread, Pumpernickel bagel, caraway, ginger snap cookies, root beer barrel candy, stewed apples, canned pumpkin, BIC pen ink, raisin toast, scented pine cones, cedar, cinnamon stick, allspice, brown sugar, molasses, nutmeg, persimmon pudding, and clove. This medium-bodied, well-balanced, cola colored porter exhibits a medium-high sweetness with flavors of molasses, ginger, faint anise, Cherry RC Cola, dark potting soil, mild booze mid-palate, mincemeat with apples, and iced pumpkin spiced latte, leaving behind a lingering aftertaste of ginger bread.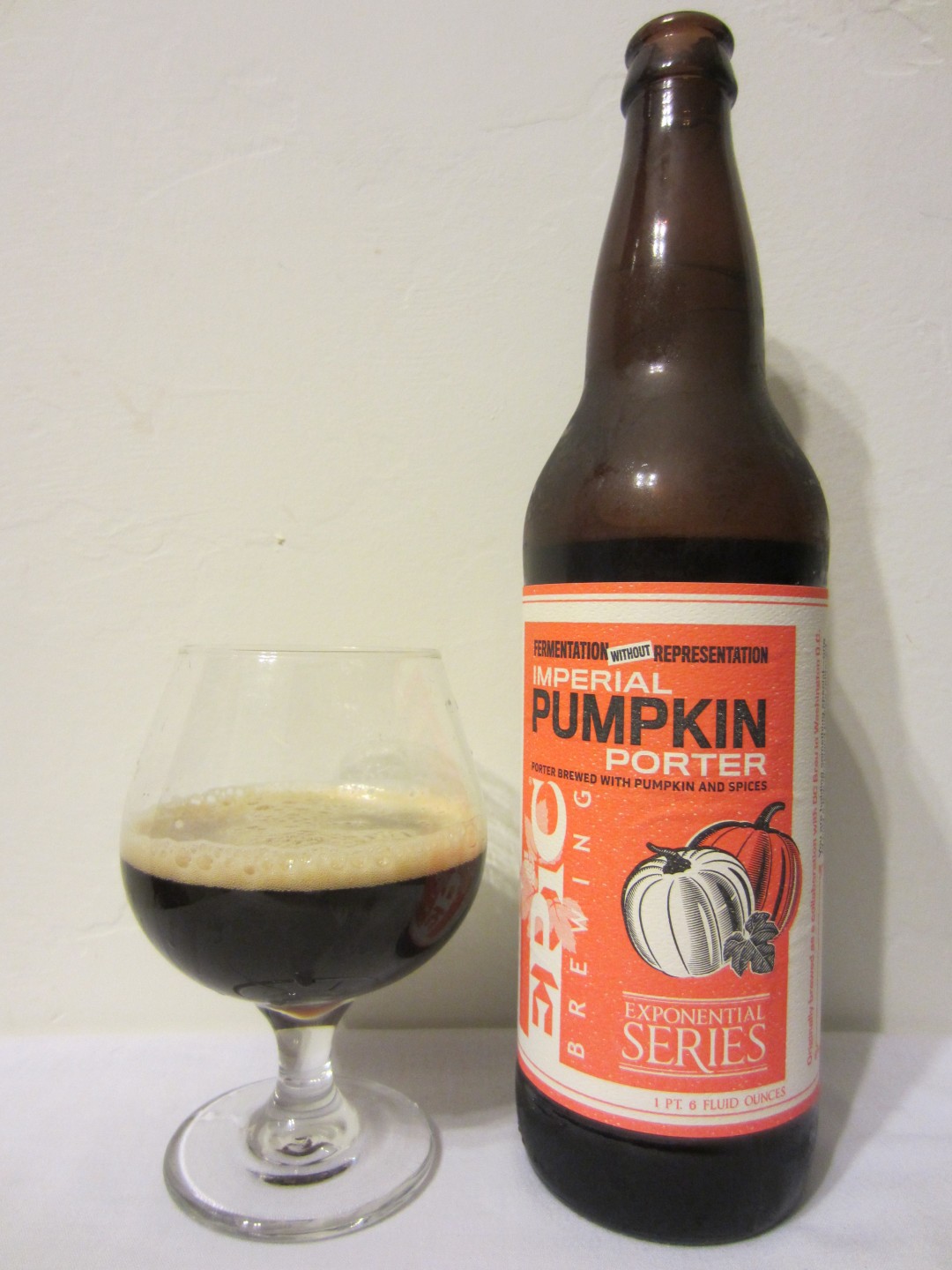 7. Fermentation Without Representation – Epic Brewing Company: A solid medium-light bodied porter, but low on pumpkin spices. About a finger of dark tan head lasts about 45 seconds, cola colored, clear. Aroma is spent grain, wet wood, hint of Grape Nuts, artichokes, sweet acorn squash, brown sugar, bark, dry autumn leaves, gooey prunes, fig jam, sticky ginger cookie, praline pie filling, all-grain muffins, roasted corn on the cob, hint of dry Palo Verde beans, Brazilian nut shell, pumpkin guts.  Taste: burnt raisin toast, toasted pumpkin seeds, crumble topping on a pumpkin-apple muffin, anise, booze, oak, cocoa powder.  Aftertaste is burnt rock and roasty autumn leaves.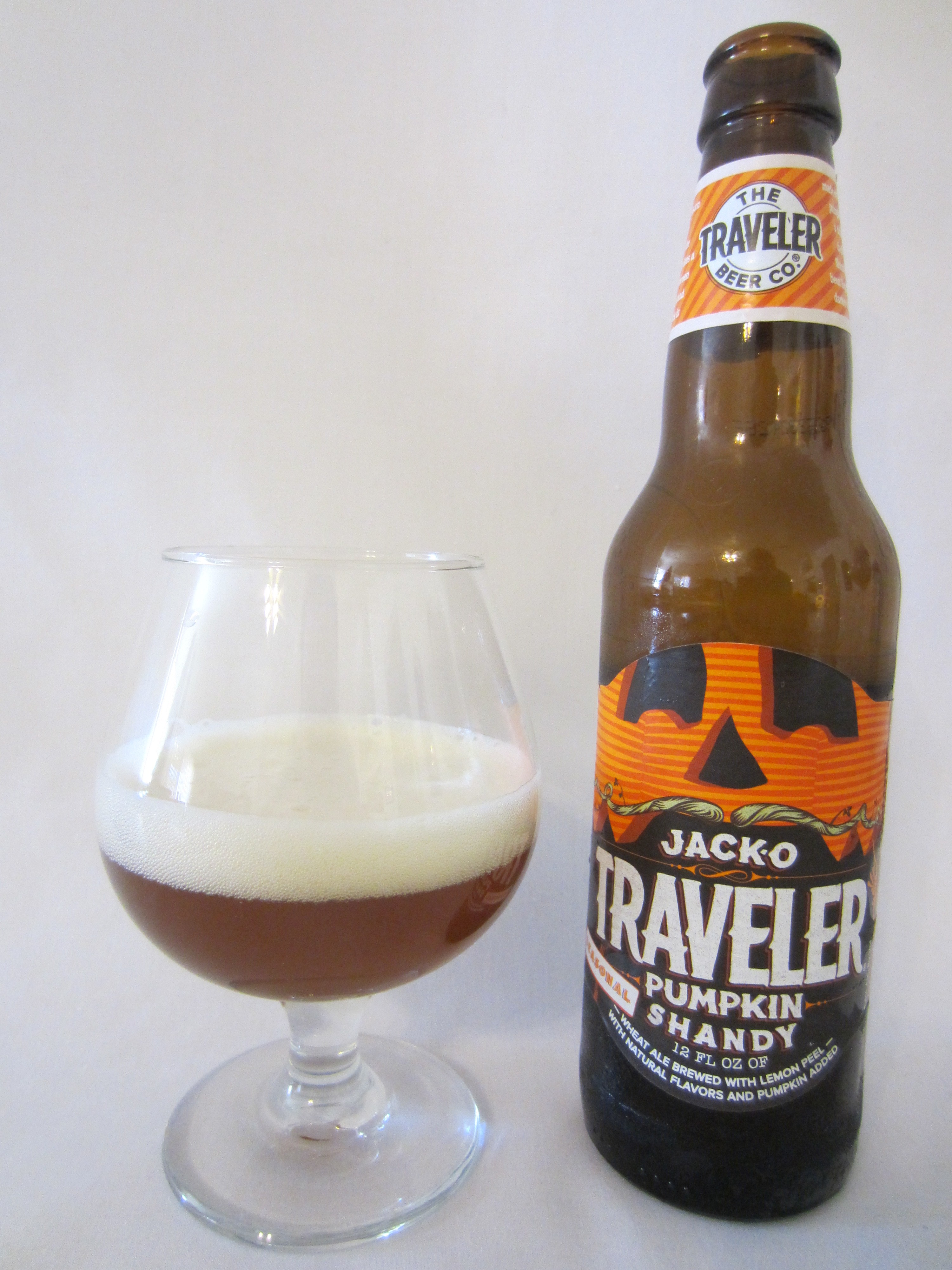 6. Jack-O Traveler Shandy: Wait- a shandy in the top 10? Heresy!!  (Wait til you see # 5.) The deal with shandys are that typically they're on the sweet side, as is pumpkin pie, so shandys sort of have a bit of an advantage in mimicking a cold slice of pumpkin pie, which, for better or worse, is what many people tend to associate with the word "pumpkin".  And that's why Jack-O Traveler is here at # 6.  Overall, a decent pumpkin shandy which presents a hazy walnut wood appearance with a ½ inch of creamy light tan head, a bit of lacing and excellent head retention. Hints of clove, ginger, and vanilla candle can be found in the nose. Serendipitously, the flavor is even better than what the aroma leads on with its semi-sweet soda character, medium-high carbonation, notes of ginger, clove, toasted grain, and tooth pick.  Some pumpkin character was picked up in the aftertaste along with a bit of Wheat Chex.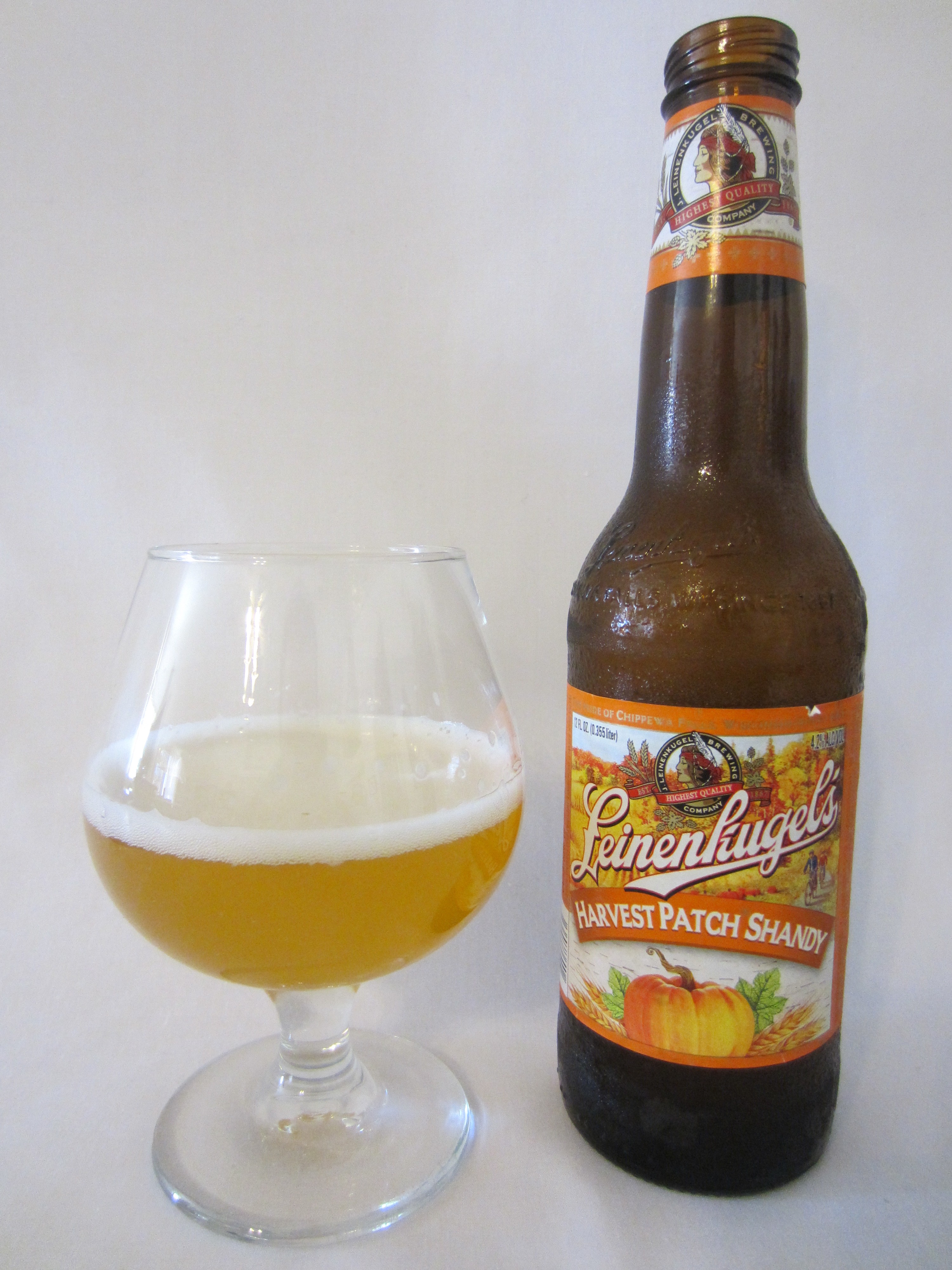 5. Leinenkugel's Harvest Patch Shandy: Dear Lord, another shandy?!?  Yep.  Like it or not, Harvest Patch may be the closest thing to a cold slice of pumpkin pie in a bottle you can get, so it scored highly in representing that "pumpkin pie" character, but more importantly, it's a pretty damn fine shandy. [Remember, the base-style of the beer is judged in this review too, in this case "shandy", so regardless of whether we personally like shandys or not as a style of beer, as a shandy, Leinenkugle has it dialed in.]  The beer pours a cloudy pumpkin skin color with about a half finger of creamy egg shell white colored head which remains for a solid minute, leaving behind even some lacing. The aroma is spot-on pumpkin pie with balanced and inviting notes of nutmeg, allspice, ginger, and cloves, hints of moist pie crust, and yes, pumpkin (even though it's not indicated that the beer contains any actual pumpkin at all). Taste-wise, if Sprite were to make an alcoholic pumpkin soda, this would be it. Although the beer is a bit on the sweet side (to be expected of a shandy), it nevertheless delivers a medium bodied, lightly pumpkin pie flavored experience with prickly carbonation, and an aftertaste that's a touch tannic with some radish-like bitterness.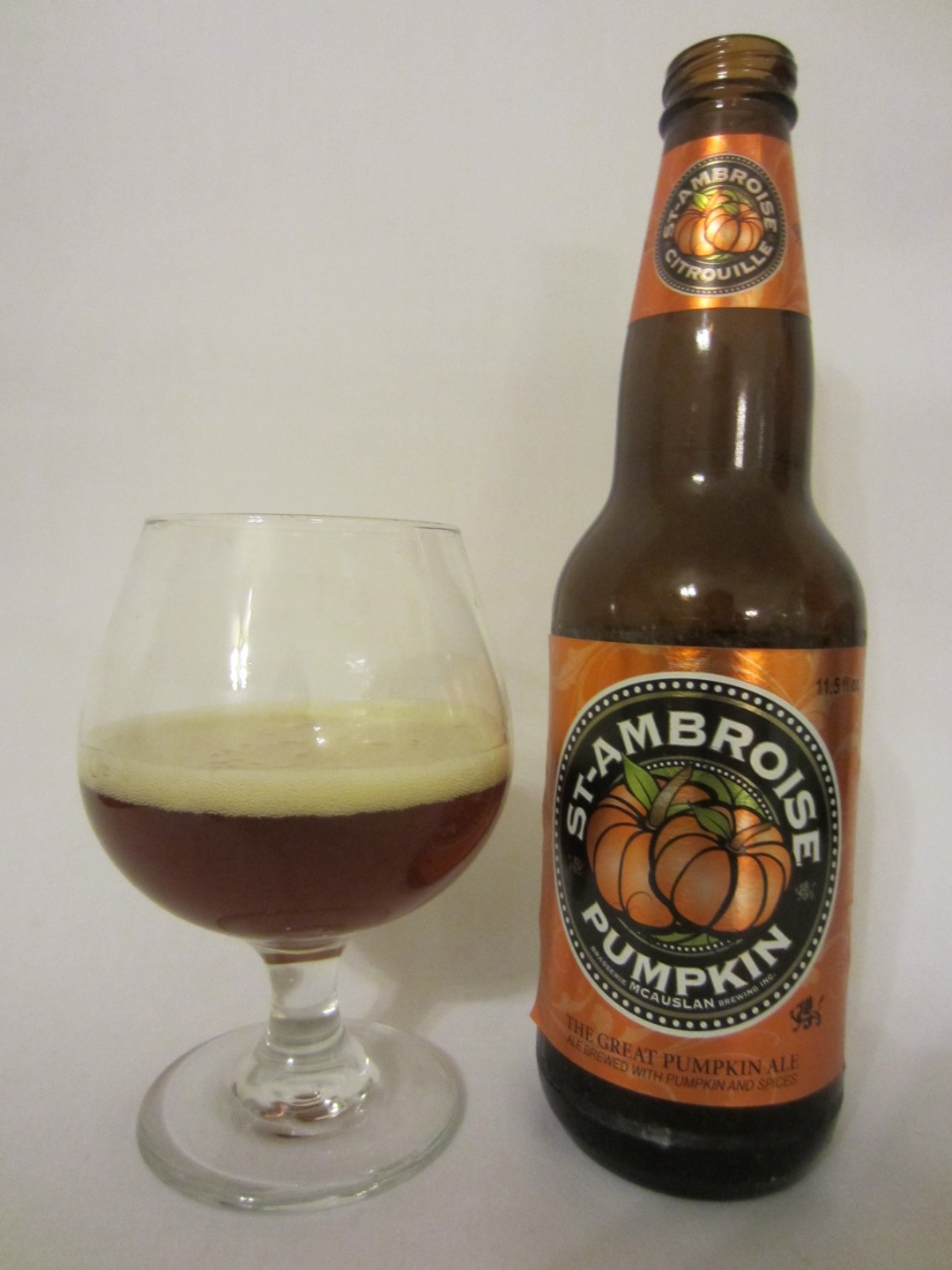 4. St-Ambroise Citrouille (The Great Pumpkin Ale) – McAuslan Brewing: Re-label this tasty spiced beer "Apple Pie Ale", and it could easily be sold year-round. So why apple pie and not pumpkin pie? Well, the short version is that this pumpkin beer is not brewed with allspice (a key ingredient typically found in American pumpkin pie), and is decidedly cinnamon-forward (much like apple pie).  So to an American palate, this Canadian pumpkin beer (while delicious and possibly more like Canadian pumpkin pie than the American version), is closer to apple pie.  Understanding that, our American panel noted aromas of apple chunk cinnamon yogurt and ginger snap cookie, followed up with an appropriately sweet taste of cold stewed cinnamon apples, yogurt, mildly astringent pumpkin pie spice, pine cone potpourri, oats and pumpkin bread.  Although the dominant cinnamon spice does tend to drown out much of the already subtle pumpkin character, this cinnamon-centric Canadian pumpkin beer is darn good and belongs in the top five for sure.  [Recommended food pairings: Beavertail, poutine, and anything Tim Hortons.]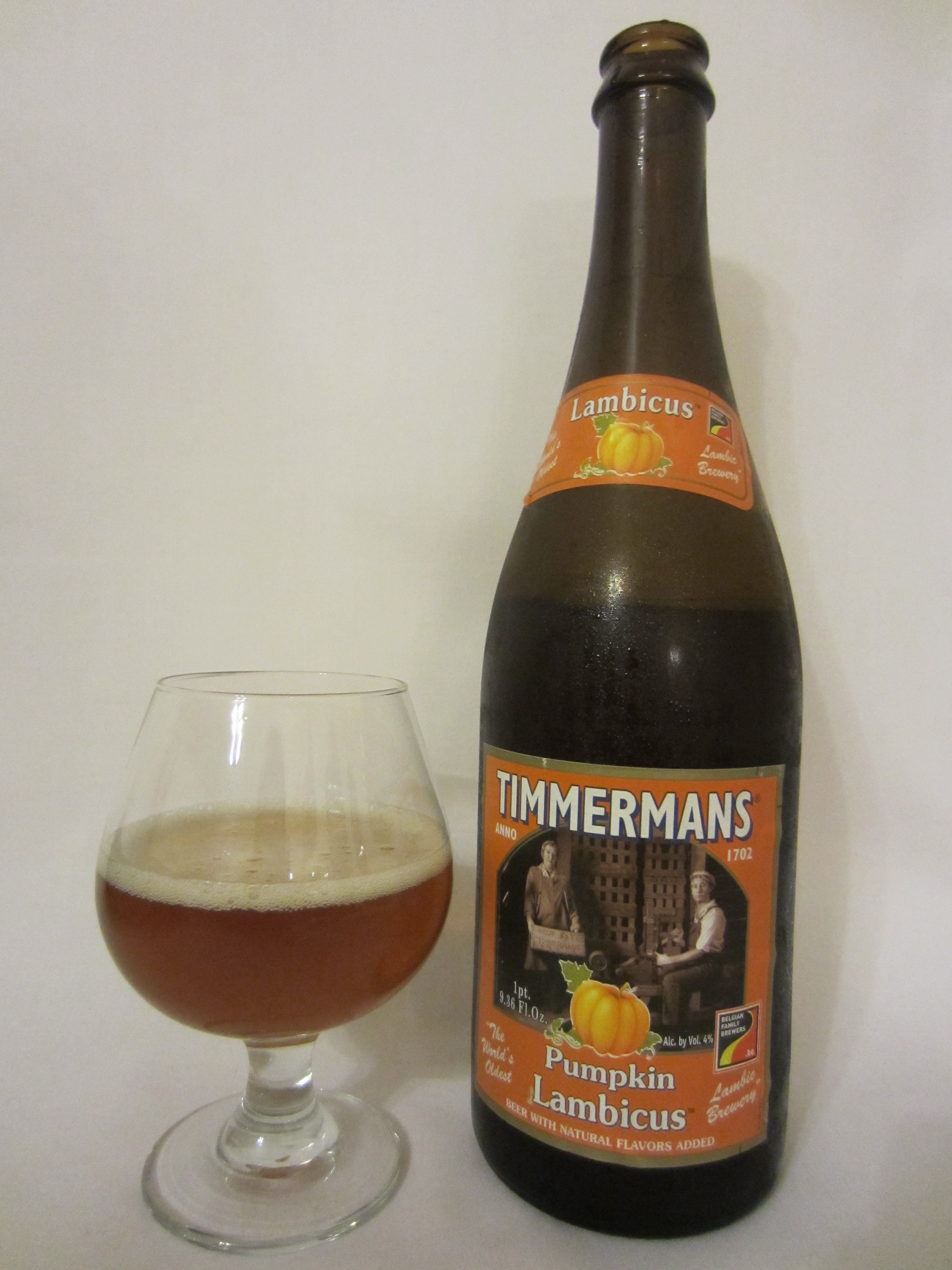 3. Timmermans Pumpkin Lambicus – Brouweij Timmermans [2014 Vintage]: Imagine the aroma of a perfect slice of mildly tart cinnamon apple-cherry pie with a pinch of nutmeg, its gooey filling gently easing away from a soft, almost doughy, pie crust, with perhaps even a scoop of slowly melting French Vanilla ice cream on the side. That's the first greeting of this masterfully crafted, peach tea colored Belgian Lambic. Beneath the pie crust are hints of sweet lemon tea, which manifests  in the flavor as a tall glass of sun tea with a wedge of fresh-squeezed lemon, the bright acidity balancing the mild sweetness of the lightly spiced presence of apple pie. Lemon acidity lingers into the aftertaste which is best remedied with another sip.  If only this tart ale communicated more pumpkin pie and less apple pie, we'd stop our search for the best pumpkin beer right here.  Nevertheless, Timmermans justifiably rests rather comfortably in the top three of this pumpkin beer review for having produced an expertly crafted, world-renowned, Belgian Lambic since circa 1702— and this pumpkin Lambic is no exception.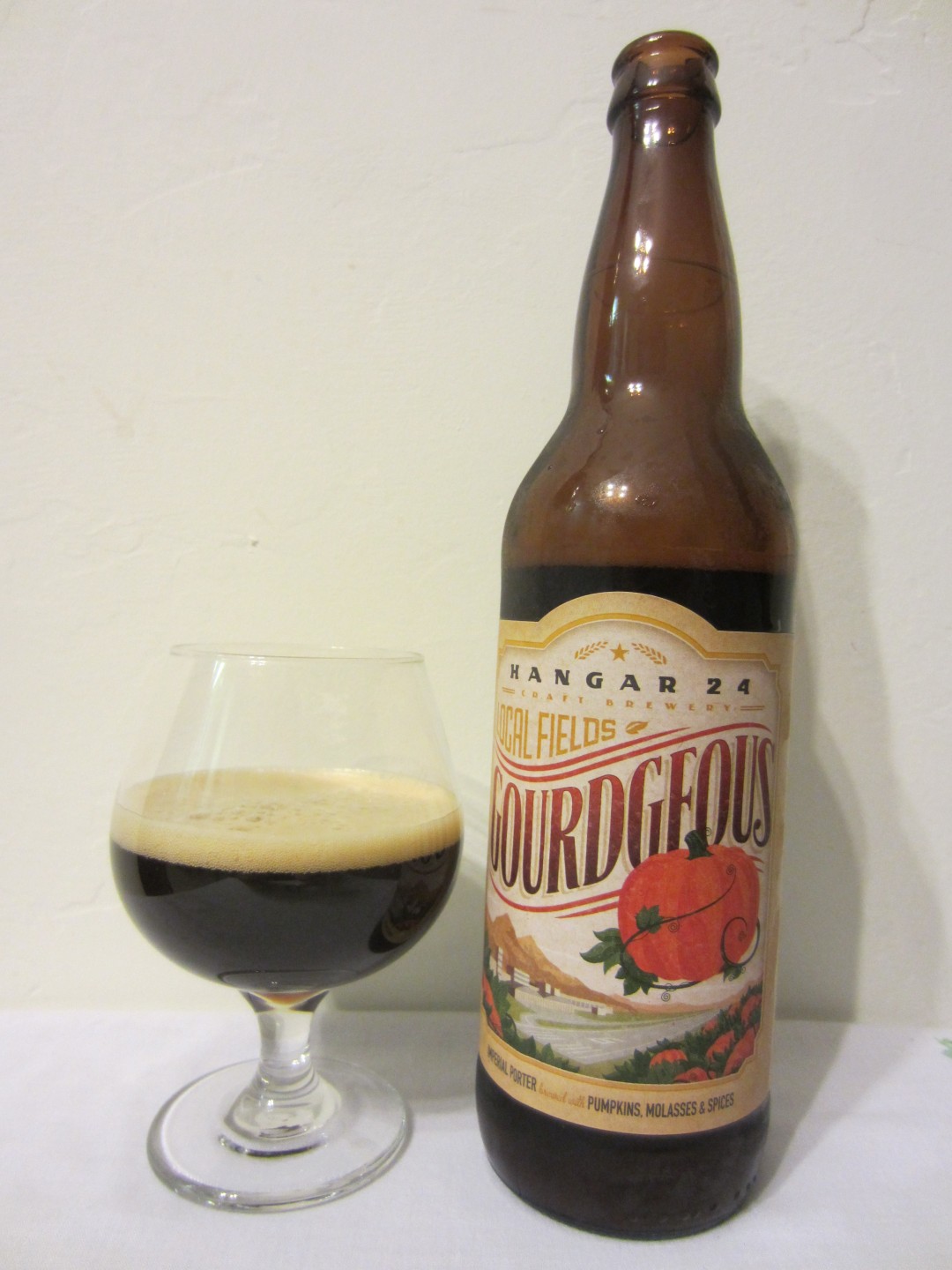 2. Local Fields Gourdgeous – Hangar 24 Brewery [2014 Vintage]: A panel favorite for its complexity and combination of flavors, "Gourdgeous" pours a dark cola colored body (excellent clarity) with a thick finger of dark tan head which dissipates slowly for over a minute.  The aroma features notes of earthy roasted malt, cold pumpkin pie, chai, allspice, pickled beets, RC Cola, iced black coffee, Triscuit crackers, molasses, and volcanic rock. The taste mirrors the aroma fairly well with additions of anise, a touch of vinegar, spiced apple cider spiked with vanilla vodka, unsweetened cacao, squash, and restrained pumpkin pie spice.  Mild roasted malt and baker's chocolate linger in the aftertaste.  Although the beer could benefit from some more pumpkin/pumpkin pie character and body (it's a bit on the thin side especially for an Imperial Porter), this ale is a superior example of pumpkin porter and ages well.
And the # 1 pumpkin beer of 2015 (from only those beers reviewed on this list)…